TRACKING>>It is not every time one comes in contact with a centenarian in Nigeria. It is also a rare opportunity to meet one who has fought for the unity of the country as a soldier.
On Saturday, July 6, the vice president of Nigeria, Professor Yemi Osinbajo in Lagos, attended the annual Nigeria Army Day celebration held at the Ikeja Cantonment. He was on ground to represent President Muhammadu Buhari as the headliner of the event.
One of the memorable moments at the event was when the vice president met the oldest surviving soldier in Nigeria, Rtd Private Amuda Aluko.
Osinbajo who could not hide his joy of meeting such an old military personality shared his delight on his Twitter. Legit.ng gathered from his tweet that Aluko is 104 years old and he was fully dressed in his uniform and aided on both side by two men.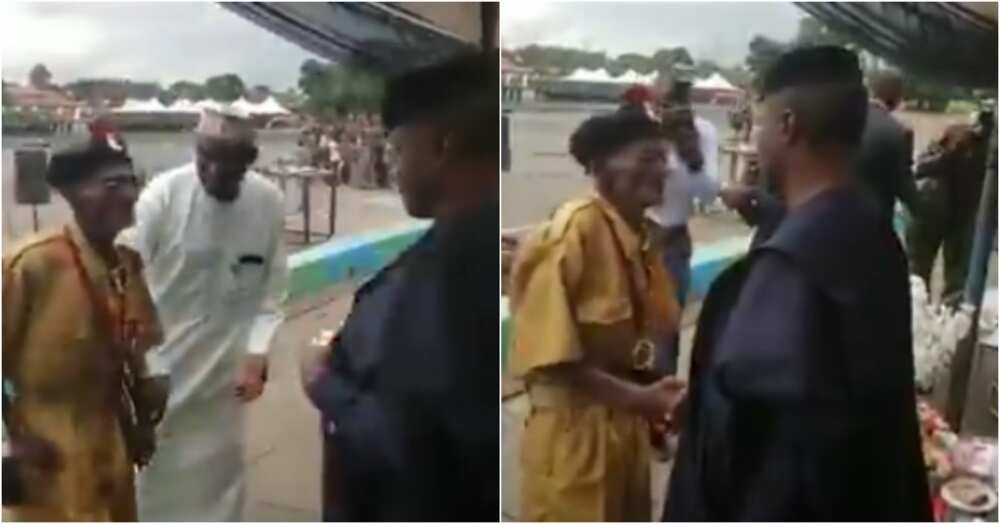 From the video accompanying the tweet, it could been seen that 'old soldier never dies' as Private Aluko saluted the vice president unaided and had a chit chat with him.
On a lighter note, Osinbajo noted that the centenarian soldier is as old as the amalgamation of Nigeria.
Meanwhile, wife of the vice president, Dolapo Osinbajo, recently gave people a glimpse into her past life and endeavours.
She did this during her speech at a National Conference for Anti-Substance-Abuse held in Abuja that was meant to commemorate the International Day Against Drug Abuse and Illicit Trafficking.