AN OPEN LETTER TO PRESIDENT BUHARI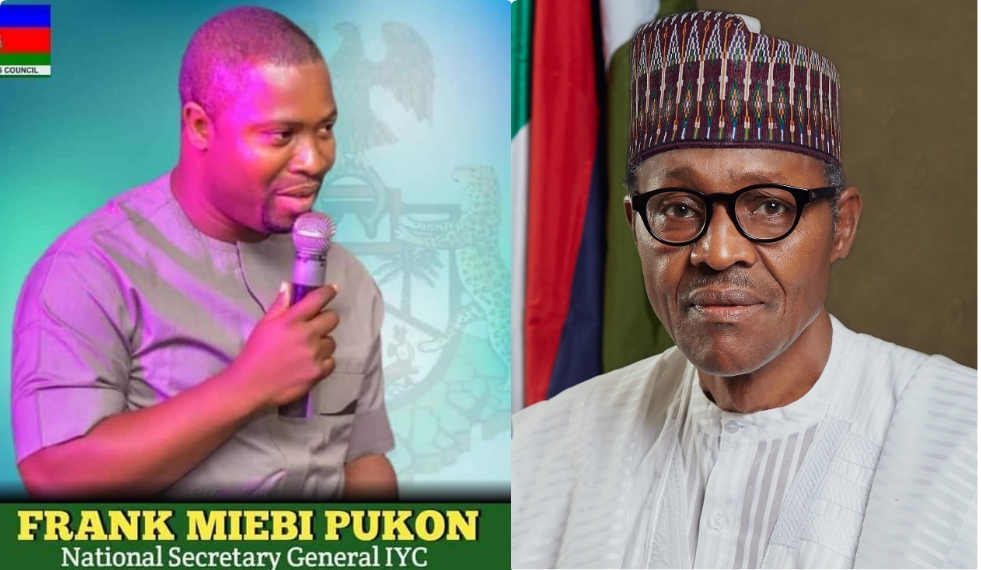 AN OPEN LETTER TO HIS EXCELLENCY PRESIDENT MUHAMMADU BUHARI (GCFR)—BY THE SECRETARY-GENERAL OF THE IJAW YOUTH COUNCIL (IYC) WORLDWIDE, COMRADE FRANK PUKON ON JANUARY 13, 2020
Dear President Muhammadu Buhari,
What Legacy Do You Intend To Keep For The Niger Delta?
This is the first time, I am writing an open letter to you, and I believe more letters will come in due course, therefore, I want to congratulate you and wish you a happy new year with good health, Sir.
Having said that, Mr. President no well-meaning Nigerian will not be disturbed with the unfolding developments in the Niger Delta. The events in the last few years as regards to the NDDC is despicable and unacceptable.
The Niger Delta today has not been divided in any other time, than this time when you are the commander-in-chief with regard to the region's socioeconomic development and political advancement.
History will have it that, it is during your presidency Niger Delta parastatals started having strange names. Sole Administrator in the NDDC and Interim Administrator for the Presidential Amnesty Programme. We in the Niger Deltans can only hope and pray to God when you finally sack the Honorable Minister of Niger Delta Affairs, Senator Godswill Akpabio that you will not come up with a strange name for the ministry.
It is painful to note that an accomplished Nigerian of your pedigree will still play into the political decoy of Senator Godswill Akpabio by flagrantly violating the Establishment Act of the NDDC. What is even more painful, is the mind blowing financial irregularities or misappropriation levelled against Senator Akpabio, which has made many to be inquisitive to the clear demonstration of contempt and disdain to the region by your administration.
I believe everyone is innocent until proven guilty by the laws of a competent jurisdiction. So I can't drive a process if Senator Akpabio is guilty or corrupt by those allegations levelled against him. However, what I have seen is, Mr. President's crusade and political will in fighting corruption. If all Nigerians will agree on one thing is the incorruptibility of Mr. President. Therefore, what is expected of Mr. President is to suspend and launch a full-fledge investigation to investigate Senator Akpabio.
In a more serious note, Mr. President you are among few Nigerians that are very fortunate. Former South African President, Nelson Mandela was jailed and later became president. Mr. President yourself was also jailed and today you are the president. You ran for office thrice, you did not succeed, but you succeeded in the fourth. When Mandela was acquitted and later became president he advocated for a reconciliatory government that will reflect the oppressors and the oppressed. Mandela was at same age like you when he advocated for peaceful-coexistence. South Africa today is with his challenges, but there is incredible progress because a leader-led by example and set the pace for the country's prosperity.
What legacy, Mr. President do you intend to keep for the Niger Delta? Is it a legacy of Sole Administratoship or a divided Niger Delta politically and developmentally? Why do you keep deaf ears to things that has to do with the Niger Delta?
Mr. President you need not be told that the demands of the Niger Delta people, which is the mainstay to Nigeria's economic growth and development should be your uttermost priority in the last years of your presidency.
Pan-Niger Delta Forum (PANDEF) outlined 16-point agenda as far back 2016, today we are in 2021, yet you have done nothing.
Even recently South-South governors in Porth-Harcourt, Rivers State, had given you demands for the Niger Delta physical and socioeconomic development, Mr. President you still give deaf ears to these very laudable demands. I don't want to talk of the Ogoni cleanup, which we all lauded as an unexpected yet a welcome development.
I ask you once again, Mr. President what legacy you intend to keep for the Niger Delta?
It is shameful today to note that the Sole Administrator and corruption in the NDDC have become a national and global discourse.
Mr. President it is time for you to do the needful for posterity to judge you well in the Niger Delta. Listen to the agitations of stakeholders and well-meaning Niger Deltans for a substantive board in the NDDC to be put in place.
As the president of our democratic republic you ought to respect the laws of the land, in this case the NDDC Act is clear: you can only appoint a substantive board, doing anything contrary to that, is setting a wrong precedent, which will lead to anarchy and promote instability.
This is the time for you, Mr. President to listen to the various voices and sack Senator Akpabio and his poltical mentee: whom Senator Akpabio appointed as the Sole Administrator to perfect his selfish ambition, at the detriment of Niger Deltans.
While I believe sacking Akpabio and his Sole Administrator will be the first approach to the issues in the Niger Delta, on the one hand. There should also be a full-fledge investigative panel devoid of polticians to investigate Senator Akpabio's Sole Administrator and his former IMC led by Professor Kemebradikumo Pondei, on the other hand. That I believe will be a restorative theme to the too many injustices to one justice for the Niger Delta people.
Once again, I want to urge all Niger Deltans irrespective of tribe and religion to continue to be calm because the IYC will not support Senator Akpabio's Sole Administrator other than a substantive board for the NDDC.
I thank all Niger Deltans for their unflinching support to the IYC, and be rest assured that the 8th NEC of the IYC will reject and fight to finish until amity and decency is restored back to the NDDC where our people can once again feel the impact of the NDDC's vision to developing our region.
Mr. President do the needful to sack Senator Akpabio and his Sole Administrator in the NDDC.
Thank you, Mr. President.
Comrade Frank Pukon, IYC Secretary-General