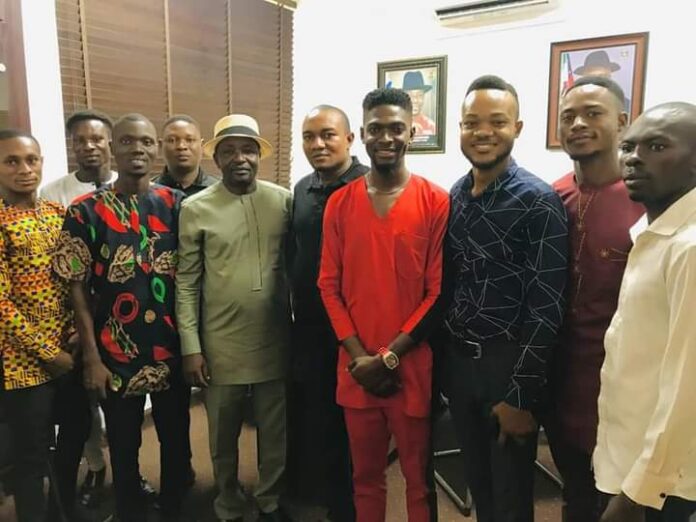 The Member Representing the Creative and Blessed characters of Yenagoa constituency 3 at the Bayelsa State House of Assembly, which are the Okordia, Zarama,Biseni people of Yenagoa Local Government Area, Hon. Teddy Elemefuro has charged youths of his Constituency to eschew all forms of vices and ensure they promote excellence at all times.
Hon.Ted was quoted while speaking in his office at the Assembly Complex in Yenagoa as he played host to a delegation of Student leaders from the Constituency.
Comrade Lucky Agah, while giving the opening remark, appreciated the lawmaker for the open door policy which made it possible for them to visit him despite his very busy schedule.
Also speaking, leader of the delegation and Member of the Bayelsa State Student Management Committee. (SMC) Onisoman kos-Ikah, who thanked the lawmaker for making the meeting a reality, however, intimated him on the reason for the meeting which according to him, was born out of the need to rescue the dying apex student body in the
Constituency, the National Union of Okordia,Zarama,Biseni Students which is the umbrella body of all student bodies in the Constituency has gone into comatose for some years and seeing the need for it to be revived and brought back into active function a stakeholders meeting was called for which birthed the 2021 convention to usher in a new leadership for the body, therefore officially inviting the Honourable Member to attend the convention even as he is the Patron of the Union.
Hon. Ted Elemefuro, Member Representing Yenagoa constituency 3, in his response, thanked the student leaders for not neglecting the Union but putting in efforts to bring it back to life even after they have left the system, Hon.Ted who took out time to charge the young minds on the need to shift their focus from all forms of distractions also charged youths of Yenagoa constituency 3 to always go for excellence at all times and not be distracted by any form of vices as it takes focus and hard work to be great in life.
Speaking further, Hon. Ted assured them of his presence on the day of the convention and his full support to the program.
In a vote of thanks, Comrade Odons Justice thanked the lawmaker for displaying love for his people by the way he welcomed them and also took out time from his busy schedule to sit and charge the youths in such and inspiring manner, he assured the lawmaker that the youths will continue to live above board and will not disappoint her leaders.
Track News
Email us @ tracknewsng[at]gmail.com
Call or Whatsapp: +2347010000762, +2348123398260