Adeboye Visits Fayemi, Laments Attack On Traditional Rulers [Photos]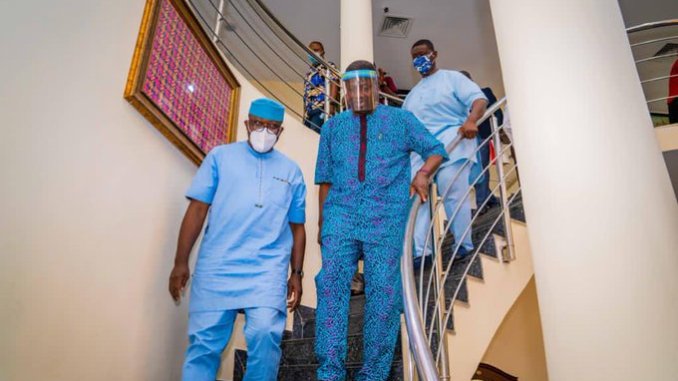 Speaking in Ado Ekiti, the Ekiti State capital, Adeboye described recent attacks by gunmen on monarchs in the state as flagrant disrespect to the traditional institutions.
The RCCG GO was reacting to the attacks on two traditional rulers in Ekiti State within a space of six days – the Elewu of Ewu Ekiti, Oba Adetutu Ajayi, was waylaid and shot but escaped being kidnapped penultimate Friday and the Obadu of Ilemeso Ekiti, Oba David Oyewumi, who was abducted in his palace on Thursday and his whereabouts still unknown.
Pastor Adeboye urged Nigerians to continue to pray for the country's survival in view of the problems confronting it.
According to the cleric, traditional institution deserved respect because of the critical roles it plays in society.
"I have committed myself in fighting the battle for the soul of the nation spiritually", led in prayers for divine intervention in Ekiti State in particular and Nigeria at large," he said.
Adeboye, who said he was in the state to ordain about 1000 pastors in RCCG, charged political leaders across board not to relegate the power of God to the background in their activities and policies in the interest of the citizens.
Also speaking, Fayemi thanked Adeboye for his prayers and efforts towards the development and progress of the country.
He said, "We need prayers, we need a lot of help. We pray that God will continue to be good to us and heal the land and in a moment, all of us will have testimony to the good works of the Lord".