Come over to Gambia and help us, GFF tells Monimichelle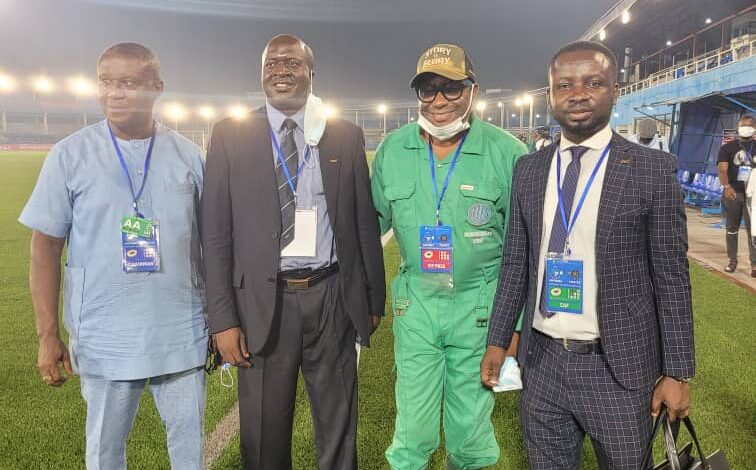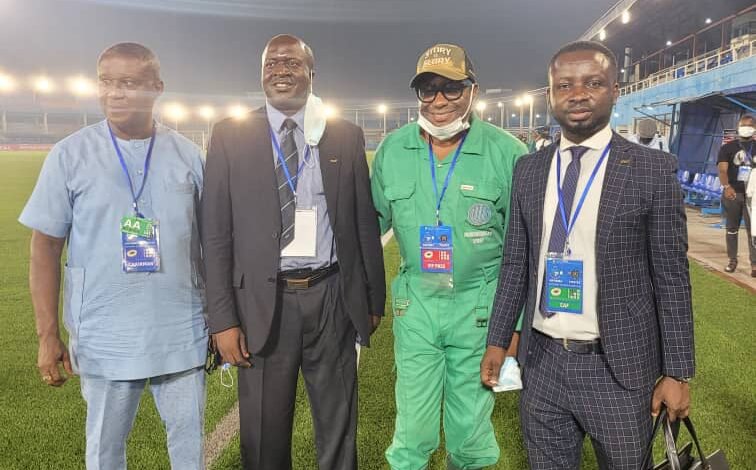 Photo: From left to Right… Enyimba chairman Felix Anyansi Agwu, GFF third Vice President, General Tamba, CEO of Monimichelle Ebi Egbe and Ghanaian CAF official Fredrick at the Enyimba stadium after the Enyimba, Orlando Pirates match Wednesday night.
The third Vice President of the Gambia Football Federation (GFF) General Langtombong Tamba (Retd) has appealed to Monimichelle Group to visit Gambia and work with the soccer federation on how to upgrade the turfs in the country.
Tamba who was the match commissioner in the Enyimba, Orlando Pirates CAF Confederation Cup game Wednesday night in Aba said he was impressed with the Enyimba stadium turf and would want Monimichelle who constructed it to be in Gambia.
"This pitch is world class…I m impressed with it and I am going to invite the contractor who did the job to come to Gambia. Similar pitches we did back home in Gambia was washed away in less than a year. This is top quality… I want to see this kind of job in my country. We want to have good pitches like this in all our regions and I think Monimichelle should come over and help us," Tamba said.
The CEO of Monimichelle Ebi Egbe stated that he is happy end users and stakeholders have continued to appreciate the job of his company, even as he added that the vision of the stadium construction outfit is to eradicate bad playing turfs not just in Nigeria but the African continent.
He stressed that Monimichelle would continue to raise the bar declaring that Nigerians should watch out for the stadium being constructed in Awka, Anambra state.
He was quick to add that maintenance is key if the Enyimba stadium must retain its top quality.
Newstap.com.ng gathered that the Aba turf has suffered zero maintenance in the last two and half years.