UN ECOSOC/UNFCCC Accredited NGOs Engages State Parties And SUB National Entities On Sustainable Development In Nigeria's Niger Delta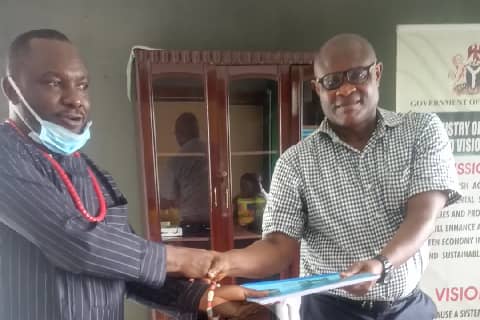 ••••Dr. SUOBO leads African Trade Center (ATC) Regional Delegation To Rivers State.
Rivers State Ministry of Housing Receives Sustainable Housing Development Blue Print in Tandem with UN Habitat Housing For All Declaration from Dr. Hephzibah Suobo.
Rivers State Government gets new housing plan from Representatives of African Trade Center, a UN ECOSOC NGO led by Dr. Hephzibah Suobo along with elite members of the organization; Victor Okoro, Dr. Peace Iqwe and Patrick Abiakam. The team met with the Rivers State Commissioner for Housing represented by the Ag. Permanent Sectary/ Director of Architectural Services at the Point Block section of the Rivers State Secretariat Complex.
Dr. Hephzibah Suobo who is the Regional Director for Niger Delta of the African Trade Center opined new possibilities in sustainable, durable and affordable homes by unveiling bamboo alternative housing plan fueled by the Niger Delta Green City Project. He said, the project when implemented can kick start a robust State Home Owner Scheme for the average and vulnerable citizens who are low income earners who would be the major beneficiaries to live in low and high median apartments made of prefabricated materials from bamboo built with all the aesthetics and luxury of modern house.
He said the ATC has contacted Agro Resources Nigeria Ltd Mr. Ejeolu Joseph a china trained expert on Bamboo and Green Tech Expert.
Dr. Suobo said talks are already ongoing with Nigerian representatives of UN Habitat to collaborate with state parties and sub national entities or federating units based on the housing for all declaration. He urged the Rivers State Government to send an advance party to embark on fact finding mission to India, Philippines, Vietnam, China, Brazil and Latin America where bamboo technology is very operational.
He said the two main reasons for this initiative is to build homes with ecofriendly materials that supports nature's resilience to climate change. He said by 2030, the United Nations have established legal pathways to decarbonization which will eliminate the use of fossil fuels as energy sources. This affects cement, plastic, oil and gas and automobile industries, all sectors are now committing to energy transition and green economy. The Niger Delta Green City Project is to prepare the Niger Delta region for green blue corridor proposed in the agreed conclusions of previous UN Habitat, COP and UNGA summits. He said the second reason is that cement made homes are no longer sustainable for the poor because of high cost of cement and energy demands generated from fossil fuel to run the cement , civil and construction Industries will no longer be sustainable according to UN resolutions.
The average citizen cannot afford cement made homes because of exorbitant cost may drive people into corruption to afford homes above their means, rents are not in tandem with minimum wage. Bamboo Alternative Housing will serve the needs of all citizens in terms of cost reduction in rentals, mortgages and affordability. He said the Brutland Commission report define sustainable development as the development that meets the needs of today's generation without compromising the needs of future generation. He said the ultimate goal of any development process is to ensure that the human person becomes the central beneficiary of the development process, the housing sector should embrace the poor and vulnerable as the central beneficiary of Rivers Home Owner Scheme through Bamboo Alternative Housing Program proposed by the African Trade Center. He said the final implementing entities should be the state government, private sector and UN Habitat institutional support and grants.
To fight climate change the housing sector is the first approach which will start with bamboo tree planting to serve as carbon sinks and forest reserves. Bamboo trees will be planted and nurtured into bamboo farms and plantations to serve as resource base for alternative housing needs. Dr. Suobo said the initiative is to build 1000 bamboo units in each local government area to help homeless youths and the poor in vulnerable communities. And utilize bamboo to upgrade slums and squatter camps in Rivers State, by so doing Rivers State will move from garden city to green city of Nigeria.
In response, the Director of Architectural Services welcomed the initiative and thanked the delegation for taking out time to visit Rivers State with the new housing Initiative. He said, the initiative is in tandem with his personal experience from his first bamboo made home for the past 20 years. He said bamboo prefab materials if well treated can last long and equally serve as green ecofriendly adventure to tackle global warming as bamboos are known to regulate temperatures and absorb carbon. He said the government of Rivers State will partner with African Trade Center to make this initiative a reality.