2023: Cross River, Enugu States Queues Behind Amaechi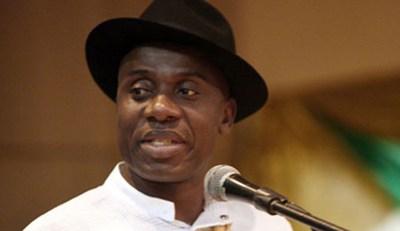 "I want to tell you that come 2023, APC must govern Niger Delta states so that our people will experience good governance"
The people of Cross River State under the platform of Bridge Builders Initiative For Green Nigeria said they are prepared to work for APC and Rt. Hon. Chibuike Rotimi Amaechi to retain power at the federal level come 2023. The Cross Riverians said this at the Inaugural ceremony/Symposium of the group titled; Peace, Security and National Unity.
The National Deputy Women Leader, Miss Elizabeth Usani and the South-South Zonal Publicity Secretary, Comdr. Leko Dodeye Obono who spoke on behalf of the people said that they are ready to bring APC back to power as they have done it before, saying that the party should look at the Minister of Transportation when making choice of candidates.
According to them; Mr. President of BBIGN, Dr. Emmanuel Orgwu you are welcome to Calabar. We are happy that you came because we thought you will send a representative. We have understood the objectives of the group, so do not bother yourself, educating us on what the group stands for. You are the kind of person we have been looking forth to work with- a dogged and capacity minded person.
For Cross River State, we are fully ready for 2023. The Honourable Minister of Transportation is a patriotic and nationalistic Nigerian. He will be a good market for APC because everyone will be interested in buying him due to what he represents. This crowd here came from different LGAs, which some are five to six hours journey. This is to tell you how zealous and passionate we are. So be rest assured that we will bring results when the time comes.
Responding to the Cross River State Chapter of Bridge Builders Initiative For Green Nigeria, the National President, Dr. Emmanuel Orgwu expressed gratitude for the turnout of the event. Dr. Orgwu said, as a bridge builder, he is not surprised with what he saw. He also thanked the guest speaker for educating them on the need for peace and national unity. While speaking, he also lambasted Gov. Nyesom Wike of Rivers State and one Jackson Ude who is peddling fake news against Dame Judith Amaechi, the wife of the Minister of Transportation.
As he said; I am happy that I came. This is the second time I am coming to Calabar on politically related issues. You are sweet and good people. You have everything to take care of your visitors.
I am overwhelmed with the calibre of people I am seeing here. Elizabeth and Leko, you did great job. I appreciate. But it will not be enough if this cannot translate to victory and success come 2023. We must work hard to succeed and bring in government that will meet the needs of the people; a government that will consolidate and compliment the efforts of President Mohammadu Buhari.
I also congratulate the speaker. You did well on the topic and we have learnt.
The topic of the symposium is the major challenge Nigeria is facing today and the younger ones are the most hit. I know that the insecurity in the country is politically motivated to paint Buhari/APC led government bad.
Just this morning when I was coming to Calabar, I listened to 7am news when the Governor of Rivers State, Nyesom Wike said that President Buhari should resign because of insecurity in the country. I couldn't but laughed.
I believe Rivers people should even call him to resign first. He does not have the moral ground to talk about security issues because he is one of the causes of insecurity. 2015, Gov. Wike armed thugs to kill and destroy during elections. Has he retrieved the guns from those hoodlums who are his followers? The answer is No. He has abandoned those hoodlums after using them. Today, they are using the guns to commit crimes through; kidnapping, robbery, oil bunkering, etc. This means that Rivers State Governor is among those aiding crime and insecurity in Nigeria.
We also know that one of the major causes of insecurity in the country is lack of employment opportunities which Gov. Nyesom Wike has not created since his inception as Governor of Rivers State. Gov. Wike abandoned meaningful projects of the previous government which would have created thousands of job opportunities for Rivers people; ranging from uncompleted Model Secondary Schools, Primary Schools, Health Care Centres and Agric Farms. He has neither built nor encouraged any industry to create jobs for the people. With this, you know now that he is an agent of insecurity, especially in Rivers State.
I want to tell you that come 2023, APC must govern Niger Delta states so that our people will experience good governance. I know what you are passing through from the Cross River State government. You wake up in the morning to here big grammar with no meaningful development to show. But I tell you, Rivers State is the worst. You have a Professor who can speak English. Rivers State has a dumb and visionless person who bite and chew grammar.
The younger ones must rise to pursue them and bring in leaders with visions who have the people at heart.
When I came here, someone asked me a question regarding the fake news about Dame Judith Amaechi. Please kindly disregard such evil news. Even the peddler of the news cannot believe his own news. We know them, they are enemies of Chibuike Rotimi Amaechi who are threatened with the integrity, honesty and incorruptible nature of the Minister of Transportation. They cannot beat his personality, so they resorted to blackmails. Does Jackson Ude work in NDDC or Attorney General's office? Where is the file he claims he saw against Mrs Amaechi? Where in President Buhari government will an NGO be awarded a 70 billion naira contract? How much does NDDC receive monthly? Nigerians are not unintelligent people. Let the man change style. This kind is no longer reigning. Shame on him. He is a contractor of doom, who is seeking for attention. Amaechi's family will not welcome him because the Chibuike Rotimi Amaechi we know does not associate with people of questionable characters.
Please let us work for the interest of APC and Rt. Hon. Chibuike Rotimi Amaechi.
Today is Friday and we must remember this gathering for good.
The National President, Dr. Emmanuel Orgwu who also visited Enugu State on Saturday applauded the people of Enugu State and South-East zone.
Speaking to the people, Hon. Austin Okezie, Zonal Vice President (South-East) who represented the National President, Emmanuel Orgwu said the group has enough reasons to work with Rt. Hon. Chibuike Rotimi Amaechi for the success of APC and the benefits of the people.
According to him; we have been suffering in Enugu State due to lack of APC government which created a vacuum between Enugu people and the federal government.
If not because of Chibuike Rotimi Amaechi, South-East and Igbo nation generally would have suffered heavily. The opportunities we have today at the federal government were made possible by the Minister of Transportation; the only voice speaking for us, especially in times of appointments and employment.
He is the man we need and we must support him, whether he is interested or not. Nobody makes himself a king. It is the people who will call you to be king. So we must call him to be king because he is the kind of person Nigerians want.
Chibuike Rotimi Amaechi should be nicknamed "Social and Infrastructural Development". He is patriotic, nationalistic and an utilitarian.
Let us go home to our various communities or wards, LGAs and others to recruit fresh members. It is a course and we must be committed to it.
The National President would have been here. He was at Cross River State yesterday. On his way coming, he called me that he has gotten to Umuahia, but he will be going back to Port Harcourt because he is ill. So he requested I represent him. Let us always be praying for him. It is not easy being on the road every day. The man is putting in so much to see the success of this course. I pray that God bless and reward him.
If you know him very well, he is so passionate for APC and Chibuike Rotimi Amaechi interests.
Once again, thank you so much as we continue to preach peace and unity of the country which will bring social, economic transformation and development.
In the vote of thanks, the South-East Zonal Coordinator thanked the people for accepting the course to work with APC to retain power at the federal level and recover Enugu State from the hands of the evil PDP government.
He urges people to look beyond today and focus on the future.