Absolute Corrupt Firing A Blurry Corrupt Image;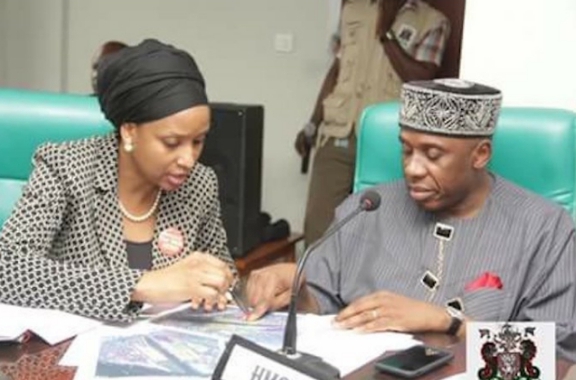 Amaechi Against Hadiza Bala Usman
When interest contradict, no political figure is above to be challenged, or even fired to some extent. That's the open rule of modern politics as a game, no one is untouchable when appeared to be a threat to his superior men.
So long as the perpetual paranoid of your actions and Inactions will persist in an organization or ministry, you can't escape the deadly trap of your superior personals. One has to be wary of his move while dealing with crooks in a juicy organization.
Also, how do you expect them to be satisfied of her moves and let her keep shining at that particular conflictual moment when its seems she is digging up their grave shenanigans as their subordinate, don't you think she must sound a threat to their peace and she must pay the price at any cost ? Knows those you are dealing with, before trusting anyone.
However, as everyone knows, no one, including the president himself could escape the trap of political witches and gang stars. For even the president himself failed to escape the shackles of treachery orchestrated by the political Maradona of Nigerian politics at his first reign 1978 as Nigerian president under military junta.
If this could be possible with the Oga at the top, then who is she to escape this plot. Please tell Malam Gimba Kakanda that the principal she serve and respect, revere his political allies than his kinsmen not to talk anyone that she just emerge from his state. For if memory can serve us well, Bubu once disgrace his wife in favor of cabals.
So, I see nothing new in that, arraigning Hadiza Bala on the baseless corruption basis is one of the most ridicule political witch-hunt happened under this present administration because if to say they are truthful and honest in the fight against the disease they are examining her then the whole Minister of transport wouldn't have had reach this time.
Notwithstanding, The likes of Akpabio, Sheriff and others that have hundred billions corruption allegations and other sensitive matters pertaining national security are still chilling, cheering and dining in same table with the fake corruption crusader simply because they join his saint political party. And yet you want us believe they are willing to fight corruption right ! Something worry your head.
In this very saga, All I could subscribe to is that, she is paying the price of her Boss rift with her principal " Amaechi " and if to say our government is quite responsible and thoughtful no one could ever be punished for the mistake of his Boss.
And if corruption would be enough genesis of her sacking saga, then more than half of Buhari cabinets must be chased out of their portfolio for non would ever come with a clean hand if the fair scrutiny persist on corruption basis.
Enough of this " Pot calling kettle black " game. Let's Amaechi be probe on a fair corruption trial before dancing upon this toddler MD. She might not be clean for she is a human who is capable of committing mistake, or far from that, for that I believe she can be trace with corrupt charges. Then why her Boss who has been in to the system over years ?
Perhaps Hadiza's hands must not be clean, but at least hers must be more tidy than that of Boss who fired her on baseless corruption twaddle which some people are trying hard to subscribe to the madness by joining the trend .
Before the game is over, even the tout saint principal must cry hysterically. We believe.
Nigerians are not fools, they have brain to think and they have sense to distinguish between black and white, good and bad likewise beauty and its opposite. We can't be scammed.