Ekiti 2022: Fayose Endorses Kolawole As PDP Gov'ship Candidate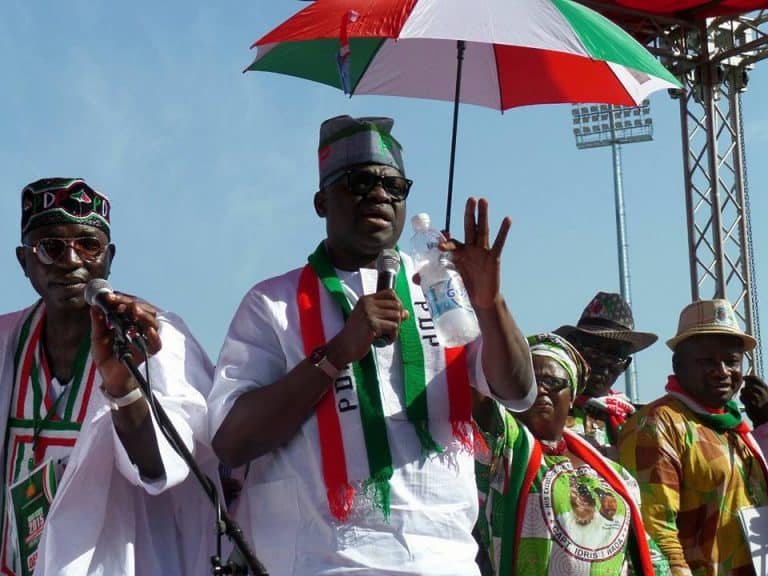 A former governor of Ekiti State, Ayodele Fayose, has endorsed Bisi Kolawole, as his preferred candidate for the 2022 governorship election in the state.
Kolawole, a former house of assembly member, was officially presented to Fayose's supporters across the 177 wards to prepare a solid ground for his emergence in the primary.
TrackNews Online reports that Kolawole is the current chairman of the Peoples Democratic Party (PDP) in the state.
Fayose described Kolawole as a bridge-builder, one who could bring in a better future for Ekiti and the party, adding that he was "our collective project."
Recall that Fayose had abandoned his support for his former deputy, Prof. Olusola Eleka to become the next governor and backed Kolawole.
Explaining why he backed Kolawole in March, Fayose had told The Nation that his decision is not final as the PDP will have to conduct its primary to select its candidate.
Asked by he is backing Kolawole, Fayose said: "There is no basis. Bisi Kolawole never said he wanted to be governor.
"The fact remains that, if I want to choose somebody today, I will like to choose my former Commissioner for Works, Kayode Osho. Because he was the one that stepped down for Eleka.
"But, if I want to look at my personal interest, he may not be appealing to everybody, the majority. So, I thought it wiser. I watched every one of them. They have always met. They can deny it. They had agreed that, if whosoever we agree on, others should accept.
"So, my decision is not final. There will still be primary. The party will still come and do the congress. There will still be an election to select the candidate. I have simply endorsed. It is not in my power to say you are the candidate.
"I just picked Bisi Kolawole as my own candidate. And I did that because we still have time and I don't want people to be spending money and say, oga, you asked us to come out, you know where you are going.
"Why did you big tell us. Why did you allow us to waste money. So, I don't want to be involved in that. So, it is my own decision to support Bisi Kolawole. The National Working Committee of the party will still send people in due time to come and do the needful. If you don't accept what we have done, there will still be primary.
"May I tell you, those who are opposed to giving the ticket to Bisi Kolawole, would they not need me? Can they do it without Ayo Fayose? Let us call a spade a spade. It is Haram when they don't endorse you. But, when they endorse you, it is not Haram."