'We Gave N800,000 To 'Fulani Man' Through Gumi' – Parents of Abducted Afaka Students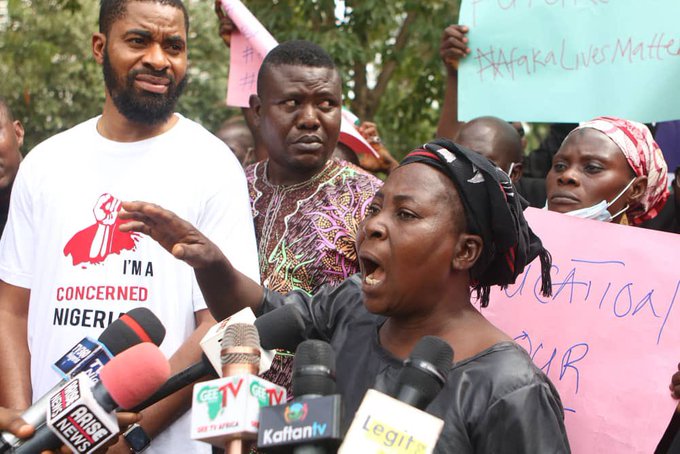 One of the parents of the kidnapped students of the Federal College of Forestry Mechanization, Afaka, Kaduna State, has narrated how parents of the abductees paid N800,000 to a certain "Fulani man" they were linked to by Sheik Gumi, in their bid to secure the release of their children.
The woman made the disclosure on Tuesday when parents and relatives of the abductees protested in front of the National Assembly.
The students, around 30, from the school were abducted on March 11 by armed bandits.
In a video by RootsTV, one of the mothers of the kidnapped students, said: "We had been going for several committee meetings; we were taken to meet Sheikh Gumi for a meeting. We were directed to a man called Ahmed who invited a Fulani man whom they gave N800,000. The money, we were told, was just for transport.
"I cried, I told him I am a widow and I don't have a husband, I am just training this boy to help me tomorrow. I begged him and he said it was none of his business. We tried to begging and he said no, until we pay about N500 million."
Another woman said the kidnappers had called her for almost two weeks asking how much the parents were able to raise.
She said most of the parents are widows, petty traders, and poor, adding that they could however not raise the money and depended on the government to help out.
The woman, also a mother of one of the kidnapped students said, "We told them all we were trying to do was to get the government to assist us. Then he asked us if we were going to abandon our children if the government failed to pay."
She revealed that the kidnapper told her they had killed one of the students.
"They took us to #Gumi's house, he directed us to an Ahmed, who invited a Fulani man from #Kaduna, we contributed N800,000 for him, he told us that was just for transport. I cried and pled with him, saying I'm a widow. He said it wasn't his concern" – Kidnapped Student's Mother pic.twitter.com/lh5sRxKgAt