Breaking: Catholic Church Slams Ban On Father Mbaka (Full Statement)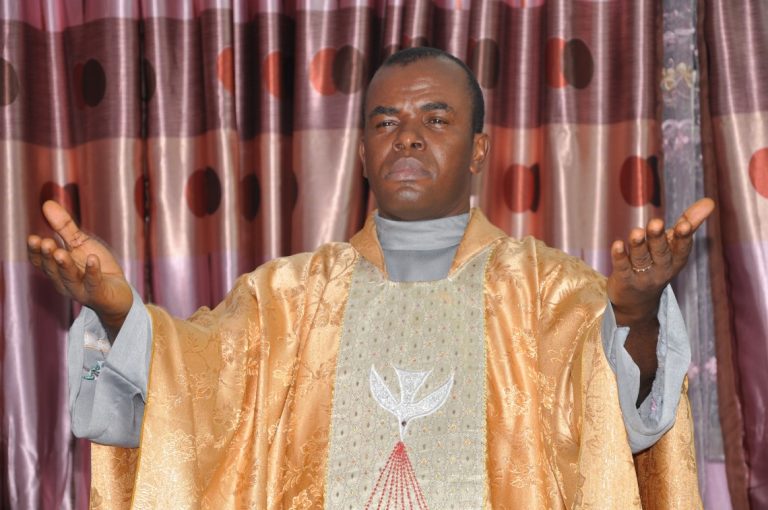 The Spiritual Director of Adoration Ministries Enugu Nigeria (AMEN)
Rev Fr Ejike Mbaka
has been banned by the Catholic church from taking part in any form of partisan politics.
The leadership of the catholic church also banned the fiery but controversial priest from releasing prophecies about candidates contesting political offices.
The decisions are part of actions taken by the catholic church in the aftermath of the public unrest generated by the supposed disappearance and appearance of Mbaka in May.
The decisions are contained in a letter dated June 3 by the Catholic bishop of Enugu Diocese Callistus Onaga which also announced the conversion of the Adoration Ministry to 'chaplaincy' under the Enugu Diocese of the Catholic church.
It also comes few weeks after Mbaka has announced the shutdown of the Adoration Ministry for a period of one month.
The letter however noted that Father Mbaka remains the head of the Adoration Ministry but Bishop Onaga can appoint any ministerial officer "to assist the chaplains to oversee the pastoral activities of the ministry."
Below is the full statement.
Meanwhile, the Minister of Information and Culture, Lai Mohammed, on Friday, disclosed that the National Broadcasting Commission will commence licensing of all social media operations in Nigeria.
Mohammed disclosed this as the Federal Government suspended the operation of the micro-blogging platform, Twitter in Nigeria.
This is coming after Twitter deleted a 'civil war' post by President Muhammadu Buhari which the social media platform said violated its policies.
The Minister in a statement released through his Special Assistant on Media, Segun Adeyemi, said the measure is with immediate effect.