Even Men Of God Hates Themselves – Nigerians React To Chris Okotie's Fare Well Message To TB Joshua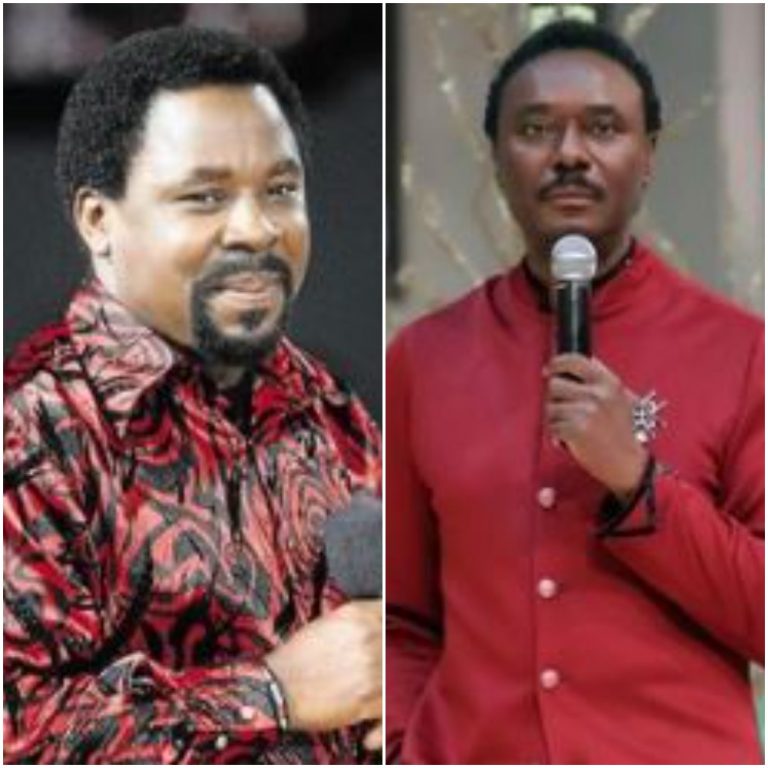 Founder of the Household of God Church, Rev. Chris Okotie has come under fire over his

purported farewell message

to the late TB Joshua.
Naija News earlier reported that the clergyman via his Facebook page on Tuesday, June 8,penned down a mockery farewell message to the founder of the Synagogue Church of All Nations, Prophet Temitope Joshua popularly called TB Joshua.
The statement reads; Hebrews 1:13… Sit at my right hand until I make your enemies your footstool (Hupopodion/Greek)
"The wizard at Endor who assumed the title Emmanuel, has been consumed by divine indignation. And now his disciples bewail his ignominious exit "No marvel, one third of God's angels followed the disgraced anointed cherub Lucifer!!
"Jehovah-Jesus our mighty gladiator has broken the head of the dragon with his mighty blows. He has descended from the mountain of spices with the fiery sword of his indignation. Glorious in his apparel and traveling in the greatness of his strength, he goes conquering and to conquer the adversaries of his church.
In reaction to the farewell message, many Nigerians stormed the comment section of Chris Okotie's post to attack him.
One Mark "At least TB Joshua never jump from one wife to another. All I can say about TB Joshua was good,he was a friend to all,both the rich and the poor,friends to all religions, the way people reacted to his death show how great he was,who can say that about you."
One Nelly wrote "ou just want to trend. So unfortunate you dont even have followers …. what God will Judge in this world. Many pretend to be Rev, Pastors and whatever they call themselves but they are just wolves in human form… From your write up, where is the Christianity in you? You rejoice for someone's death who has touched lives of many positively ?
I pity you and your congregations cos, no doubt you are misleading them….For your mind, you are CHRIST LIKE??? Repent and ask God for forgiveness and may God have mercy on you for such utterances…If they call Revrends to come out now you will follow come out? Who ordained you Rev for the first time?"
One Nenye wrote "At least we can remember that so called "wizard for his good deeds to humanity, and his philanthropic ways, but you, what will you be remembered for? ASHAWOISM."
One officialyoungkcee wrote; 'Even men of God dey hate themselves, nobody is safe sha.'
One ruggedchristdisciple wrote;'TB Joshua is the only Pastor that God blesses with an advertising agency even in death people still dey advertising him'