Father Mbaka In Fresh Trouble As DSS Operatives 'Drags' Him To Abuja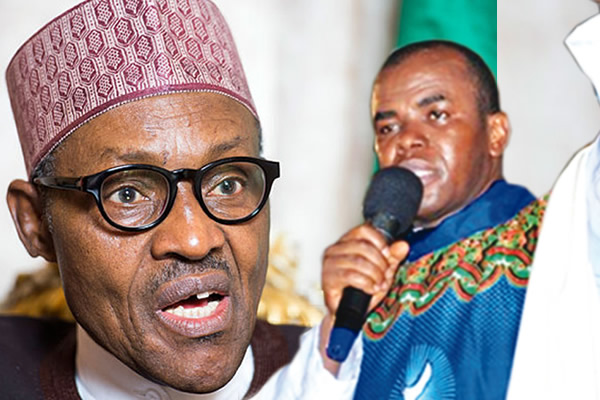 The Spiritual Director of Adoration Ministry Enugu Nigeria (AMEN), Rev. Father Ejike Mbaka may find himself in 'hot water again' as operatives of the Department of State Services (DSS) have summoned him to Abuja for questioning.
It was gathered that operatives visited the church, which had been locked down for 30 days, to drop the letter of invitation.
Details of why the DSS summoned the priest, who they did not meet, were not stated but it might not be unconnected with Mbaka's criticism of the Muhammadu Buhari government in recent times.
Reacting to the summon in a video obtained by SaharaReporters, Mbaka said, "I got a call that the DSS people from Abuja came here (Enugu) with a letter of invitation to Abuja. Over what? What I cannot understand is that the mother church in Nigeria should be "cowed down" to lilliputian.
"The church is a lion and lamb. The bible says if the foundation is destroyed, what can the righteous do. Every priest is a prophet and a king. We must protect the sheep. In this time, when killings are every day story, when there is hunger everywhere, people do not have hope again. The only hope I have is God. Anybody who will stop people from worshipping here will regret it.
"I am the servant here. They don't understand history. I spoke against Abacha. I went to Minna to tell Babangida what was wrong in his time. I spoke to Obasanjo face to face. I perform under the anointing of the Holy Spirit. I ministered to the late President Yaradua. I am being used by a higher being called the Holy Spirit.
"If they are attacking me here and there, no wahala (no problem). The Bible says if God is for us, who can be against us? Only God can be God. I heard the security people did not accept the letter. They asked them to come on Monday to give me the letter. If they know the anointing here is too hot for them, let them change. I will not keep quiet."
TrackNews Online recalls that Father Mbaka had served out the compulsory 30-day suspension placed on him by the leadership of Catholic Church, Diocese of Enugu.
The priest had also been banned by the Catholic church from taking part in any form of partisan politics.
The leadership of the catholic church also banned the fiery but controversial priest from releasing prophecies about candidates contesting political offices.
The decisions are part of actions taken by the catholic church in the aftermath of the public unrest generated by the supposed disappearance and appearance of Mbaka in May.
The decisions are contained in a letter dated June 3 by the Catholic bishop of Enugu Diocese Callistus Onaga which also announced the conversion of the Adoration Ministry to 'chaplaincy' under the Enugu Diocese of the Catholic church.