Outrage As Odumeje 'Climbs' Reverend Sister During Deliverance |Video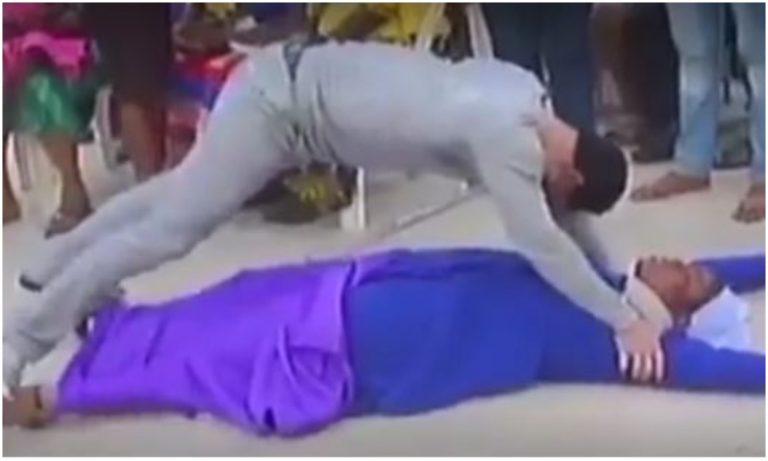 Nigerians on social media have reacted to the video of the general overseer of the Mountain of Holy Ghost Intervention Deliverance Ministry Onitsha, Chukwuemeka Ohanaemere alias Odumeje, performing a weird on a reverend sister.
In the video that has got a lot of people talking, captured the controversial cleric 'climbing' the reverend sister in a rather funny way while performing deliverance.
Reacting to the video, some social media users called out the prophet, whilst urging the Nigerian government to bar dramatic pastors from endangering lives while performing their theatrics.
See video below;
See comments below;
@koko_homes wrote; 'I still don't get why people can't pray in their homes though 🤦🏼‍♂️Everyone has a special gift of direct communication with God. It's a lack of confidence and faith that brings about all this balderdash!
@seddy_seddy wrote; 'Problems of life. may we not see problems that will make us disregard commmon sense.'
@iampsycommon; What kind of deliverance is this… This odumeje is blasphemy God …. This is so inhumane and disgusting, all in the name of finding healing…. Indeed we are zombies 😢
@official_estherbright wrote; 'Africa is gone all in the name of religion.'
@alsh158 wrote; 'I don't know which one is more shocking; Their performance position, the background music or the commentator.'
@hbc_consults wrote; is that a nun on the ground like that….have they wrung the bell.? Is it me that didn't hear it? Ehn!?!?
@chuks_money wrote; that the holly spirit might not work for the healing brother without using such a method. What they see is only for there eye alone ohhh.