'Please Be Our President Come 2023' – Northern Youths Beg Bukola Saraki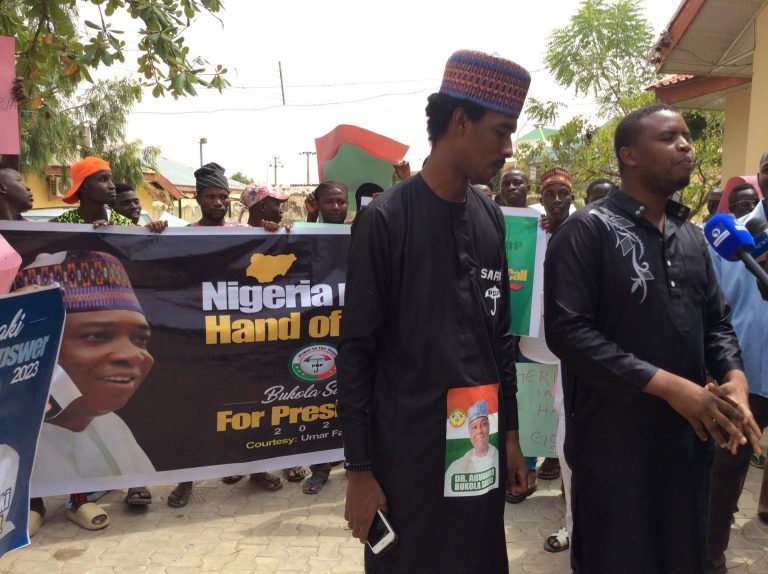 A group of youths from the Northern region has called on the former president of the Nigeria Senate, Dr Abubakar Bukola Saraki to contest the 2023 presidential race.
TrackNews Online reports that the youths who troop out en masse on Sunday in Kano, apologised to the politician for hating on him while he was in office as the president of the 8th National Assembly.
According to them, they were convinced to hate the former Kwara State governor for no reason. Marching from the Kano City centre to the Nigeria Union of Journalists (NUJ) office along Firm Center, the youths who hold with them several placards with different inscriptions insists that the former lawmaker must contest the 2023 presidential election.
"Saraki is the answer," they chant in loud voices.
Addressing the press, the President of the group, Umar Farin Gado, alongside his Secretary, Saidu Sani, both said protest that they are apologizing to Saraki for what had happened to him while serving as Senate President.
"We never knew that Bukola Saraki meant well for Us more specifically we the Younger ones, not until he left office, we were convinced to hate him for no reasons, but we have regretted it and we say sorry sir," Gado reiterated.
He said they are not just calling for Saraki to contest Presidency, but compelling him to listen to their needs and do the needful. He added: "we are not begging, we are not appealing, but are directing that you must contest the nation's highest political seat, come 2023, that is our needs and you have no option but to listen to us".
Gado and his group members noted that they will not relent in their call until Saraki pay attention to them and agree to contest the Presidency. Adding that they will mobilize other youth groups across Nigeria to join their march for Saraki.
Gado, however, noted that Saraki has no knowledge of what they are doing. He said: "we as Youths we are watching things with keen interests and we are convinced beyond reasonable doubts that Saraki meant good for our future".
Meanwhile, a northern group called Arewa Mandate Initiative has stated that it will back a southern candidate to succeed President Muhammadu Buhari.
TrackNews Online reports that there has been a widespread clamour for the presidency to return to the south in 2023 with Igbos asking political parties to micro-zone their tickets to the southeast. But in a statement titled 'The North Is Ready For Power Shift To The South In 2023', the Arewa group said it is committed to the idea of rotating the Presidency between the North and South.