2023 Presidency: Why I Support Southern President – Ortom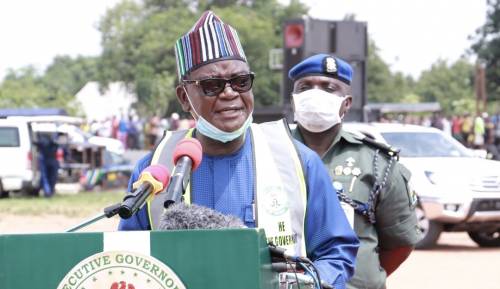 Governor Samuel Ortom of Benue State has said that he is supporting a Southern president in the interest of justice, equity and fairness.
Speaking with Vanguard on Saturday, the Benue governor noted that the south should produce the next president in 2023 to keep the country united.
Ortom said: "In Nigeria today we know that we are north and south, isn't it? So, if the north has got eight years as president, for the sake of justice, equity and fairness, the south should also have it.
"Whosoever comes from the south is not my business. Once the people accept him, I'm ready to support that person. And I stand on that based on my stance on equity, fairness and justice."
Ortom, however, promised to support an Igbo presidency if it goes to the south, adding that he knows some Igbo politicians that can be president of the country and can rule well.
He said: "I have several people that are in my own calculation in Igbo land that can be president of this country and can rule well. However, I cannot decide for the southerners because I am not a southerner.
"For now, I'm a northerner. We are in democracy. Whatever the people decide to do in the south is what I will support. All I'm saying is that let there be a southern president.
"The north has got presidency for eight years and what have we got? Injustice, unfairness and inequity in our land. No security, the economy is in shambles.
"As I talk to you now, the federal government has borrowed over N27 trillion and we don't know what they have done with it. People are just pocketing the money for their own interests. That is the point. So let us try another zone.
"That is the point I am making. And look, I did not just support the southern governors on rotational presidency alone. I support their resolution to ensure a deadline for the enactment of prohibition of open grazing law in the southern states."