Abdulrazaq, Saraki Ignore Each Other At Eid Ground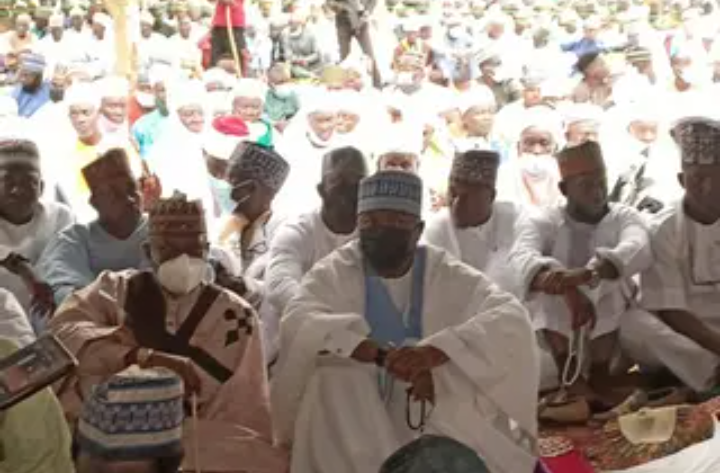 The former Senate President, Bukola Saraki and the Governor of Kwara State, Abdulrahman Abdulrazaq, on Tuesday snubbed each other at the Ilorin Eid Praying ground.
The political leaders in Kwara State joined other dignitaries ahead of the two-Rakat prayer to mark the celebrations.
This is the first time the former Governor of Kwara State would observe Eid prayer in Ilorin since the emergence of Abdulrazaq.
The governor of Kwara State and the All Progressives Congress had dislodged Saraki and the Peoples Democratic Party through the "O'toge revolution".
Saraki had arrived Ilorin four days ago, hosting many of his allies.
Resident of the state had thought Saraki would jet out of Ilorin as he did during the last Eid-el-Fitri festival in order to avoid possible clash between his supporters and those of Abdulrazaq.
He, however arrived the Eid praying ground around 8:30 with a retinue of aides and former political office holders who are his loyalists.
Among them were former PDP National Chairman, Alhaji Kawu Baraje, and immediate past House of Assembly Speaker, Dr. Ali Ahmad.
The governor arrived some minutes later but ignored the senate president.
Former Chief Justice of Nigeria, Justice Moddibo Alfa Belgore, Director-General of the National Institute for Legislative Studies, Prof. Abubakar Sulaiman, an aspirant for the APC National Chairman, Mall. Saliu Mustapha, former Grand Khadi, Justice Salihu Olohuntoyin Mohammed, were among the dignitaries at the praying ground