CHIEF OF STAFF, GOVT HOUSE EXPRESSES COMMITMENT TO BAYELSA'S GROWTH & PROGRESS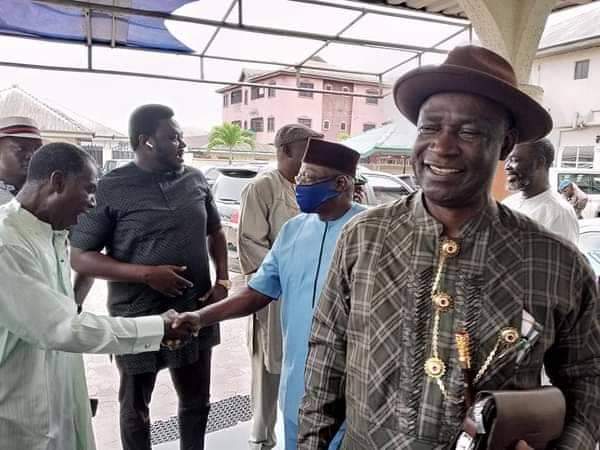 The Chief of Staff, Government House, Chief Benson Agadaga has expressed his total commitment and readiness to work with stakeholders to ensure the growth, progress and stability of Bayelsa State in all spheres.
Chief Benson Agadaga stated this during a thank you visit to the Obanobhan of Ayama Clan, King Omie Theophilus in Yenagoa, on Thursday, with 18 paramount rulers of the various communities in the clan in attendance.
The Chief Benson stressed that the people of Ogbia Kingdom are known for their loyalty, saying that this is why Governor Douye Diri is enjoying unfettered support for his Prosperity Government.
He called on traditional rulers and the political class to continue the collaboration with government which he noted is the only panacea to only opening more doors to greater opportunity for growth.
The Chief of Staff, also thanked the monarch and his Council of Chiefs for finding him worthy of the title of 'Aga-Dema 1'of Anyama Clan which was conferred on him while serving as National Chairman of Ogbia Brotherhood.
He thanked them for standing by him all this years and assured that his doors will remain open at all times to the people of Ogbia Kingdom and Bayelsans in general for suggestions to move the state forward.
Chief Benson Sunday Agadaga however called on Bayelsans to shun the pull-him-down syndrome which he noted inimical to the propagation of peace and stability of the state but rather support government by keying into its policies and programmes to better their lives.
Dignitaries in attendance include Chairman of Ogbia Local Government Area, Hon. Ebinyo Marvins Blink, Commissioner for Science and Technology, Dr. Promise Ekio among several others.