Conor McGregor suffers defeat against Dustin Poirier at UFC 264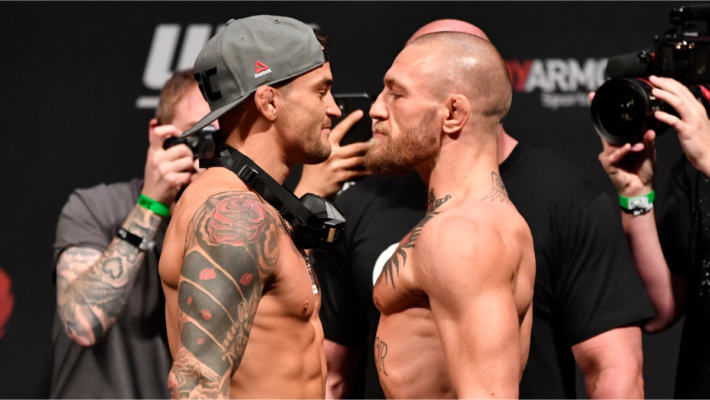 A doctor's stoppage handed Dustin Poirier the victory after Conor McGregor broke his ankle on the night.
The UFC's biggest card of the year was not without its twists and turns but in the end, Dustin Poirier closed the rivalry with Conor McGregor by getting another stoppage victory in round one.
The fight started at a very frenzy pace with Conor landing a lot of leg kicks early and mixing up his striking. As the round went on, Dustin hit back, forcing Conor to engage in the clinch to slow him down and then went to the fence.
Amidst the grappling exchanges, Dustin attempted a takedown and Conor took advantage and tried a guillotine submission. They went to the ground, Dustin survived the submission attempted and rained down a lot of elbows.
With 14 seconds to go in the round, Dustin let Conor get up and they exchanged some strikes. Conor threw a punch, he missed and when he tried to reset his feet, he broke his ankle.
After the round ended, the referee called the doctors to come examine the leg, and without any surprise, the fight was over: an anti-climactic ending to the big fight.
In the post fight interview, Dustin was not bothered that he got the win by a doctor's stoppage.
Conor, on the other hand, kept screaming "doctor stoppage, doctor stoppage," obviously alluding to the need for another rematch.
UFC President Dana White said at the post fight press conference that Dustin will challenge Lightweight champion Charles Oliveira for the Title in the mean time and that they will be open to a rematch once Conor is healed up and ready to get back in the octagon.
In the preliminary fights, South African born fighter Dricus Du Plessis got his second win, and second knockout, in his short UFC career, finishing Trevin Giles in the second round. It would be interesting to see who the UFC matches him up with early.