Madagascar: Plan To Assassinate The President Foiled, Six Persons Arrested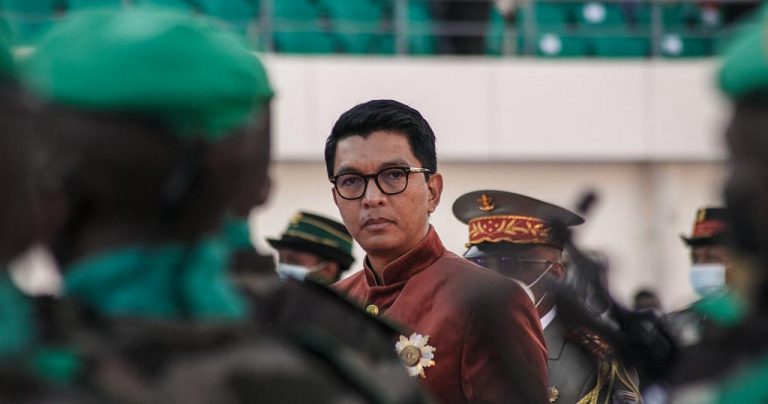 A plan to assassinate Madagascan President Andry Rajoelina was thwarted and six people were arrested, including two French, announced the justice system and the government in Madagascar.
Several "foreigners and Malagasy were arrested Tuesday as part of an investigation for attacking state security," Attorney General Berthine Razafiarivony said Wednesday evening, in front of selected media.
"According to the material evidence in our possession, these individuals have devised a plan for the elimination and neutralization of various Malagasy personalities, including the head of state," said the prosecutor, without further clarification either on the scaffolded plan or on the circumstances of these arrests.
Public Security Minister Fanomezantsoa Rodellys Randrianarison said Thursday that six people had been arrested in all, "one foreigner, two binationals and three Malagasy". And that "the police had information on this case for several months".
"Weapons and money were seized" during the simultaneous arrests "but in different places", as well as "official documents which prove their involvement", he insisted.
"The foreigner", he added without identifying it, "hid behind his economic activity his unhealthy projects", he accused.
The opposition condemned "any assassination attempt, whether against the leaders or against anyone," reacted Rivo Rakotovao, former interim president of the country.
But "we should not take advantage of this situation to undermine democracy in Madagascar," he immediately warned, while the current president has control over all political levers and is the subject of criticism. concerning in particular the freedom of the press.
On the identity of the two French arrested, whose wives were also placed in police custody, they would be former officers.
The French Foreign Ministry confirmed to AFP that it had been "informed" of their arrest, but declined to say more.
Ex Officers
According to the file of companies in Madagascar, Philippe F. runs an investment and advisory company for international investors in Madagascar.
This former colonel of the French army would have settled in the Island in early 2020, according to several sources.
Paul R., a Franco-Malagasy, knows President Rajoelina well, to whom he was a diplomatic adviser until 2011.
He presents himself, on the internet, as an adviser to the archdiocese of Antananarivo who has distanced himself, claiming not to be "responsible for people using his name without an express mandate".
Born in 1963, he was a captain when he left the gendarmerie in 1994, according to a French gendarmerie source.
At the end of June, an assassination attempt on the Secretary of State in charge of the gendarmerie and right-hand man of the Madagascan president, General Richard Ravalomanana , had already been announced.
Madagascar, which has experienced several serious political crises for 20 years, has been almost locked since the Covid-19 pandemic.
In 2009, President Marc Ravalomanana, released by the army, was forced to transfer full powers to a military board, which handed them over to Andry Rajoelina. The international community denounced a "coup".
After many other episodes, justice validated in January 2019 the victory of Mr. Rajoelina in the presidential election.
Nicknamed "TGV" for his go-getter side, this boss of advertising companies, until then better known as a party organizer, appeared in politics in 2007 by winning the mayoralty of Antananarivo.
He secured control over all political levers in December, winning the senatorial elections, shunned by the opposition.
Pressures, intimidation and threats have increased in recent months against journalists, especially around the pandemic and the current famine in the south, Reporters Without Borders (RSF) reports.