NBA YENAGOA INAUGURATES NEW EXECUTIVES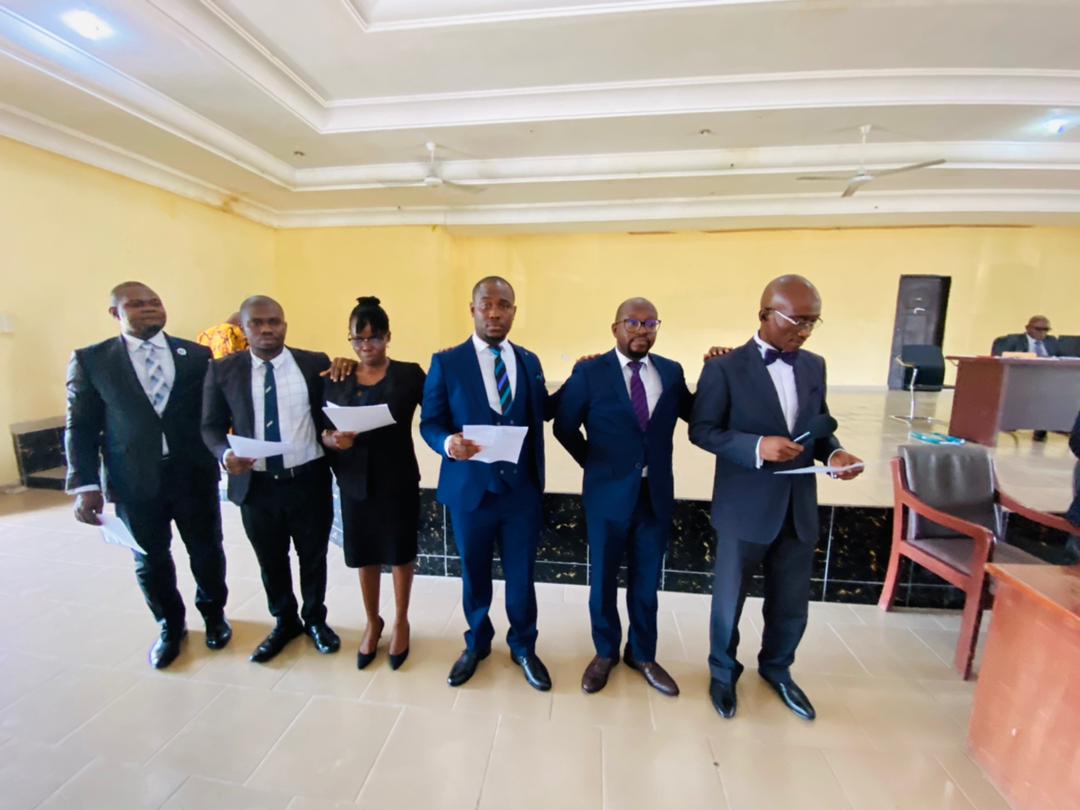 The Nigerian Bar Association Yenagoa Branch Wednesday swore in her new Executive Committee Members.
The swearing – in took place at the Auditorium of the Faculty of Law of the Niger Delta University in Ovom – Yenagoa, after a successful election which all the Contestants were returned unopposed.
Newly-inaugurated Executives of the Yenagoa Bar are Ukumbiriowei Saiyou, Esq. – Chairman;
Soala Jumbo, Esq. – Vice chairman and Pere Fawei, Esq.- Secretary.
Others include Bodei Owonaro, Esq.- Treasurer; Nsude Solomon Emeka, Esq. – Social Secretary and Nabai Alfred Inemugha, Esq.- Publicity Secretary.
Swearing-in the new Executive Committee Members, Honourable Justice Ebiyerin Umukoro of the High Court Of Bayelsa State who is a one-time Chairman of the Yenagoa Branch, praised the Bayelsa's Parent Bar for a successful election and inauguration.
Hon. Umukoro who is a one-time Chairman of the Yenagoa Branch of the NBA, charged the new Leadership to strive to maintain the ethics of the Profession, observe the Rule of Law and ensure the independence of the Bar, calling for greater inclusiveness in governance and the need for creation of new Branches in the State.
He urged them not to see Bar Leadership as a Goldmine but a call to service, tasking Association's Members to supportlend their support to the new team like they did to the outgone ExCo which brought about remarkable achievements.
On his part, the Speaker of the 6th Bayelsa State House of Assembly, Rt. Hon. Abraham Ingobere, represented by Hon. Barr. Tare Porri who is also a Member of the Branch congratulated the new leadership, pledging to solidarize in order to achieve set goals.
In their separate goodwill messages, Chief Fedude Zimugha and Dr. Dennis Otiotio, former Commissioner and Special Adviser to the Bayelsa State Governor, respectively, assured the new ExCo of Members' cooperation towards the realisation of the Association's aims and objectives.
Speaking on behalf of the newly-inaugurated Officers, the Chairman, Ukumbiriowei Saiyou, Esq., pledged that the new Executive will sustain the tempo of good leadership of his Predecessor, Felix Okorotie, Esq. and make improvements to move the Bar forward, calling for the full collaboration of Members.
Mr. Saiyou assured that the Bar under his watch will give priority attention to the construction of a befitting Bar Centre, institutionalization of capacity building for Lawyers and bring about a virile Bar, amongst others.
He dissolved Branch Committees except the Disciplinary and Conference Planning Committees.
The new Chairman also appreciated the immediate past Executive Committee for their impressive record of achievements and wishing them well in future endeavours.
Present at the event were top Government Functionaries, Chairman and Secretary of the Sagbama Branch of the NBA, past Chairmen of the Yenagoa Branch and other senior Members of the Legal Profession.
Annual General meeting preceded the Swearing-in ceremony, wherein the outgone Chairman gave his final address and stewardship which was greeted by a resounding applause.
Speaking at the sidelines of the event, Nelson Abali, erstwhile Publicity Secretary of the Nigerian Bar Association Yenagoa Branch stated that the 11th ExCo of the NBA Yenagoa finished strong as evidenced in the provision of palliatives to concerned Members during the peak of the Covid-19 and welfare packages to deserving members, organisation of memorable end of year 2020 event and Law week 2021, defence of human rights and promotion of rule of law, production of user friendly directory of members to mention but a few