Woman Chained To A Pillar By Her Husband Is Rescued In Ebonyi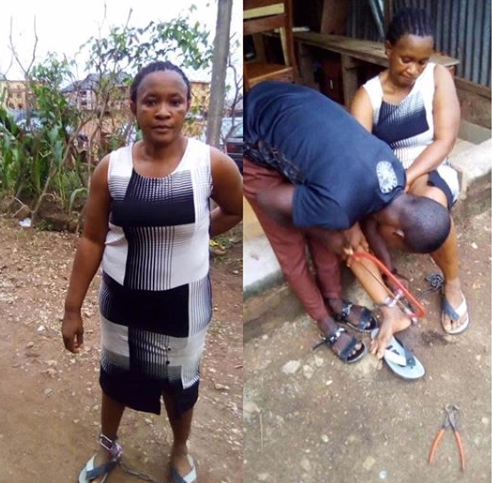 A Nigerian woman who was chained to a pillar for almost a day by her husband has been rescued in Ebonyi State police command.
According to reports, the abusive husband whose name is Uche Chukwuani chained his wife, Mrs Ngozi Chukwuani to a pillar. The sad domestic violence took place inside their home at No 1 Ike street in Abakaliki. Mr Uche left his wife and left with the keys to the chains.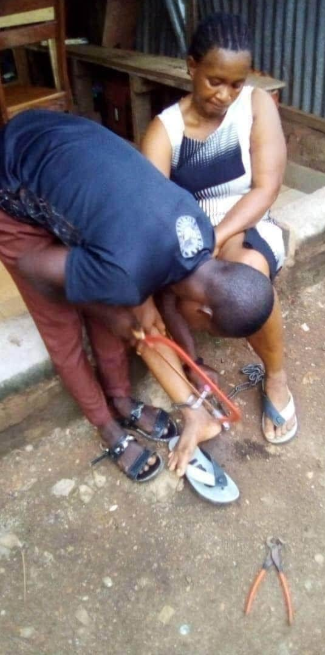 Initially, efforts to rescue the woman yielded nothing positive. The woman's daughter tried to rescue her, but Mr Uche hit her with a chain. The couples are married with children. They are both from Enugu State. The matter was reported at the Eke-aba police division Abakaliki. After receiving the report, policemen from Eke-aba division Abakaliki immediately went to the scene and rescued the helpless woman.
The process of setting the woman free wasn't easy at all. It was too difficult to set her free because her husband left with the keys. The police had to employ the services of a Welder who came and cut the chain before the woman could be freed.
The domestic violence and the subsequent rescue of the woman was Confirmed by Mr. Saint Nchekwube Anakor. He is the Special Assistant to the State Governor on Security and Utility. According to Anakor, policemen from Eke-aba division Abakaliki had visited the scene. He confirmed that the matter is under investigation.
Anakor went on to state that most people act in ignorance. It is unacceptable for anyone to chain anybody. Anakor described such an action as a crime because it is against the law. According to reports, the victim disclosed that her husband decided to deal with her because his mistress was surffering. Anakor promised that Mr Uche will be found and made to face the consequences of his cruel actions.