Buhari returns to Nigeria two weeks after attending London Summit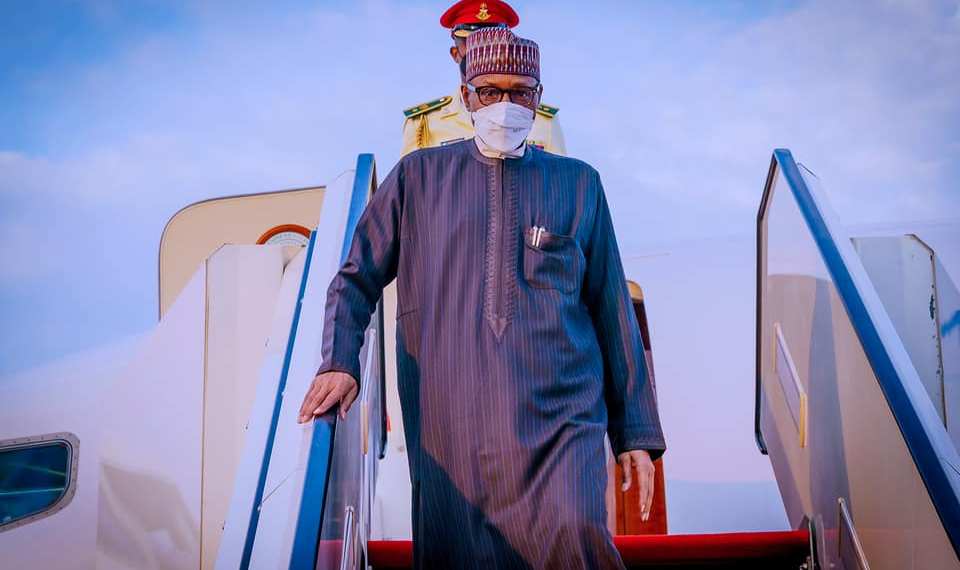 A day before returning to the country, Mr Buhari visited former Lagos state governor Bola Tinubu, who is also said to be in London on a medical trip.
Two weeks after attending the Global Education Summit in London and staying back to be attended to by his doctors, President Buhari returned to the country on Friday.
Nigeria's Air Force 1, tracked via Flightaware, was expected to land in Nigeria at 05:52PM West African time. At the time of filing this report, the Presidential aircraft was last seen near Kaduna.
Mr Buhari left Nigeria on July 26 to the United Kingdom to join in the Global Education Summit on Financing Global Partnership for Education. A press release by Femi Adesina had added that Mr Buhari would be staying back for a scheduled medical check-up.
Mr Buhari travelled alongside Minister of Foreign Affairs, Geoffrey Onyeama, Minister of State Education, Chukwuemeka Nwajiuba, National Security Adviser, Babagana Monguno and the Director General of National Intelligence Agency, Ahmed Rufai Abubakar.
Before departing London for Nigeria, Mr Buhari used the opportunity to visit former Lagos state governor and National Leader of the president's party, the All Progressives Congress (APC), Bola Tinubu, who is also said to be in London on a medical trip.
The education summit, co-hosted by British Prime Minister Boris Johnson, and President Uhuru Kenyatta of Kenya, sought to generate $5 billion to transform the education sector in low-income countries, including Nigeria.
At the summit, Mr Buhari was on a panel with other African countries, including President Kenyatta, President Nana Akufo-Addo of Ghana, President Faure Eyadema of Togo and President Lazarus Chakwera of Malawi.
Buhari pledged to increase the budget for the education sector in Nigeria by as much as 50 per cent over the next two years.
"We commit to progressively increase our annual domestic education expenditure by 50 per cent over the next two years and up to 100 per cent by 2025 beyond the 20 per cent global benchmark," he said.
Mr Buhari also held bilateral meetings with British Prime Minister Boris Johnson and the Commonwealth Secretary-General, Baroness Patricia Scotland, at the sidelines of the Global Education Summit.
Mr Adesina said his principal and Mr Johnson during the bilateral talks, appraised the war against different forms of terrorism in Nigeria and agreed that "the judicial process runs without interference, no matter who was involved."
He said Mr Buhari also briefed Mr Johnson on Nigeria's power needs, efforts, and initiatives at achieving food security.
That both men reviewed the security situation in Nigeria, with Mr Johnson who pledged Britain's preparedness to lend a helping hand.
"We are available to help," Mr Adesina quoted Mr Johnson as saying.