'I Married Two Wives Same Day So That I Can Always Have An Alternative' – Delta Farmer Nigerian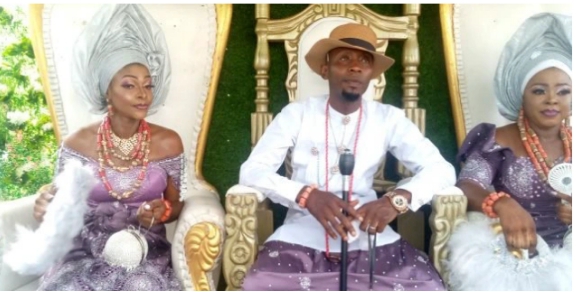 WARRI – Thirty three (33) year old farmer, Akpove Blessing, from Isoko in Delta State , whose photograph with his two wives surfaced on social media last week of his intention to marry two wives on Sunday, August 15, 2021, has said his decision was borne out of his desire to always have an alternative to fall back on.
Speaking with TrackNews Online correspondent on Sunday at Lagos-Igbide, Isoko South Local Government Area, Delta State, where the wedding took place, Akpove, added that although he is not rich, he married the two wives in order to have an alternative when one of them is not ready for conjugal activity.
‌" You know that women can be difficult at times; so I took the decision so that, when there is a problem with one, or I hurt any of them, I can always fall back on my other wife, to satisfy myself"
" But my father didn't marry more than one," he noted.
He said although the two wives already had six children (four boys and two girls) for him, the Sunday ceremony was the climax of the event which had started the previous day(Saturday) with visits to his in-laws for the official payment of bride price to the two families ,one after the other.
"My first wife is the one that they brought to me first. I married two wives because I love to marry two women.
He admonished men to marry as many wives as possible rather than running after side chicks and endanger their lives.
"Regarding cheating, that's why it's good to marry as many as possible. I don't want to behave like those big men or Nigerian politicians who keep their wives at home and go after side chicks old enough to be their daughters so as to satisfy their appetite.
"They bear my name. We live together. They have children for me already. My firstborn is 11years old . I started dating them at different times. I'm a farmer. Only God is blessing me to care for them. With little work, God helps me.
"One of them is a hairdresser and the other a nurse. They're not really rich. I wish I can be empowered to cater for them: such as making me minister of women affairs. That could help and will help me maintain their beautiful looks.
"It's a burden to marry two. But with Nigeria economy now, the only that gives a man happiness is women; you're not rich to enjoy life, the other thing that can make you happy is women.
" If you're rich and your manhood is not functioning, anger will take over you.
"My friends love it. They encourage me. Though they do not marry two wives. I'll keep encouraging my wives that things will be better. Both have two boys and one girl each. So both have given me four boys, two girls.
"To manage them is in God's hands. I'm a Christian, but not a man of God, I am just a churchgoer .Solomon had several. I only have two. I believe God will help me to care for them. If one shuns me, I go to the other for solace. I love them equally. I'll have both of them by my side for our honeymoon in the hotel room," he disclosed.
One of the wives, which he addressed as the first one, Oghenekome Okoro alias Kome, however, said she would not be pleased if her husband goes for more wives.
"I like my husband marrying two of us. I know that if my second cooperates with me, we'll live peacefully like sisters. We don't envy each other.
"I've known my husband for 12 years. It's not a big thing to marry two wives. Instead of having side chicks like even some pastors do, is it not better to marry two wives?
"I won't allow him to marry another wife again. We two are enough for him," she quipped.
On her part, the second wife, Oghenemaro, said , it will be fine, if her husband decides to marry additional wife.
"I don't see anything wrong with it; I cannot stop that decision. It will be okay by me" . She said.