THE FINAL JOURNEY OF THE 7 WEDDING GUESTS OF BOMADI.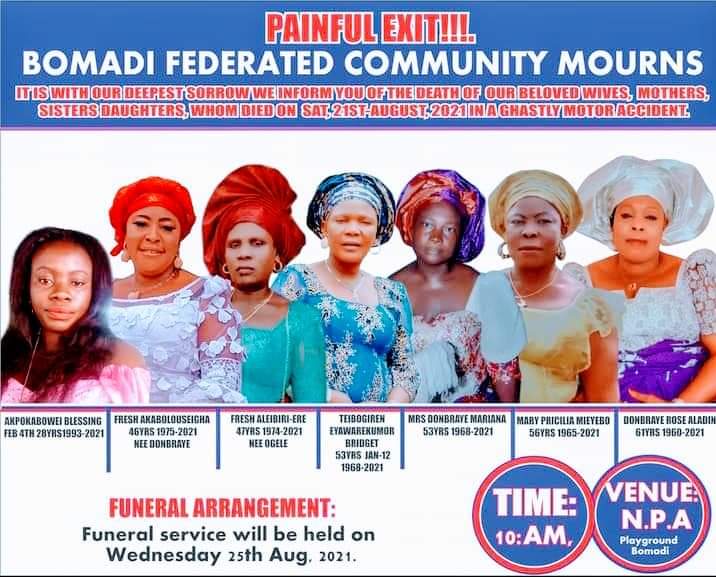 They all woke up healthy and full of life on Saturday, the 21st day of August, 2021. Took their hurry morning bath to meet up their relative wedding ceremony in Agbor.
Looking meticulously and gorgeously dressed, they boarded the waiting Sienna bus and started the journey not knowing it was the beginning of their dying process.
They arrived safely, happily received by the bride and groom. Food and drinks were ready and served. They ate, drank and displayed the Izon dance steps amazingly to the admiration of the Agbor people.
Unaware that death was waiting along Orogun area, they joyously left and journeyed back to Bomadi with gists of the happy wedding ceremony. None were able to notice any signs that death was near.
The only time they smelt death was when they heard the burst of a tyre and the bus became uncontrollable. They all shouted Jesus for help but it couldn't come. The bus veered and summersaulted into the bush and horizontally submerged in a canal. The driver and the two persons at the front seat were able to scamper through the window as the front of the bus was yet to submerge.
The seven out of the nine wedding guests who are all from Bomadi except one knew they were on the verge of dying as they were consciously dying of suffocation inside the tramped bus in the canal. Before help could come, they were all lifeless. It was an inevitable and inescapable death.
There will be a mass funeral service for them tomorrow by 10 a.m at Bomadi Play Ground thereafter six of them that are from Bomadi will be laid to rest.
It was indeed a journey from the known life of this world to the unknown of what lies ahead.
May their souls rest in perfect peace. Amen.