Buhari Govt Trying To Silence Me, I Won't Be Cowed – Ortom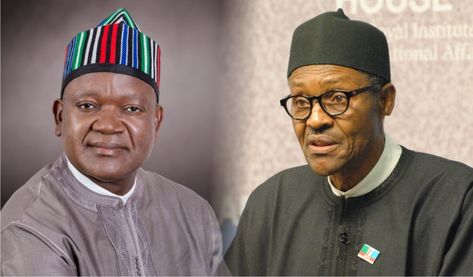 Governor Samuel Ortom of Benue State has accused President Muhammadu Buhari-led administration of trying to keep him quiet.
Tracknews Online reports that the Benue State governor have recently launched attacks on the president administration over the nation's continued insecurity.
Speaking on Thursday at event on organized by the Radio Nigeria chapel of the Nigeria Union of Journalists, NUJ, Ortom said the Buhari administration is trying to silence opposition voices.
While insisting that the present administration has failed, the governor accused Buhari of fighting opposition instead of going after herdsmen killing and maiming Nigerians.
"The present administration at the centre has adopted the approach of intimidation of those who dare to voice out their frustrations and concerns over growing insecurity and marginalization," Ortom said.
"But I, Samuel Ortom, will never keep quiet as long as injustice and marginalization prevail in the affairs of our country. I uphold the words of Dr. Martin Luther King Junior when he said and I quote: 'If peace means accepting second class citizenship, I don't want it. If peace means keeping my mouth shut in the midst of injustice and evil, I don't want it. If peace means being complacently adjusted to a deadening status-quo, I don't want peace. If peace means a willingness to be exploited economically, dominated politically, humiliated and segregated, I don't want peace.'"