Embattled Ologbotsere of Warri Kingdom, Ayiri Emami goes spiritual.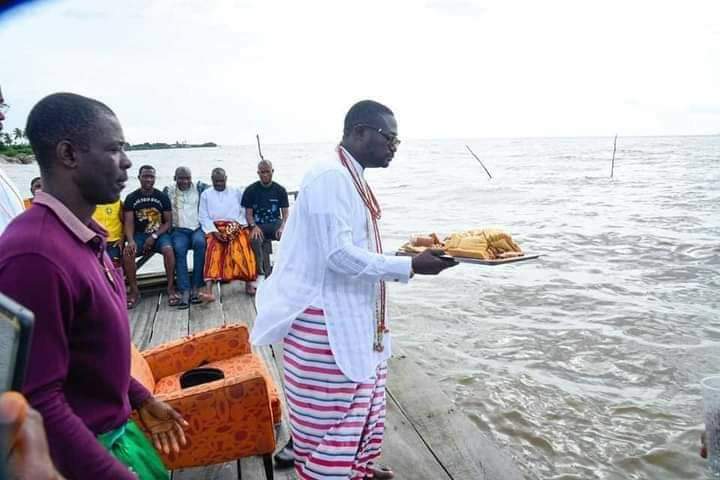 Offers N120,000 wine, beefs, others to appease the river gods for Sacrifice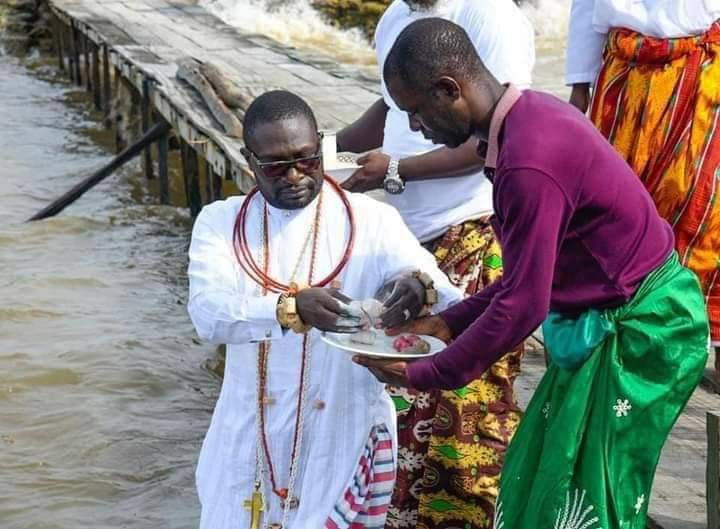 The embattled Prime Minister (Ologbotsere) of Warri kingdom, Ayiri Emami, has dared the Olu of Warri, Ogiame Atuwatse III, to do his worst, as Emami, took expensive wines, corned beefs, toasted breads, biscuits, palm wine, minerals and others for sacrifices to the river to seek the face of the gods.
The elsewhere Ologbotsere, with white attire who is yet to be revalidated and confirmed by the Olu of Warri, was seen on Sunday September 5th 2021, in a viral pictures, pouring libations to the gods in the river on behalf of the kingdom to perform his duty as Ologbotsere.
A popular ltsekiri nation Facebook influencer with user name Otuedon Yemi, stated, "This una gods like enjoyment ooo. gods wey dey eat toasted bread with corn beef, digest am with fanta and finally top am with palm wine. This must be 21st century gods".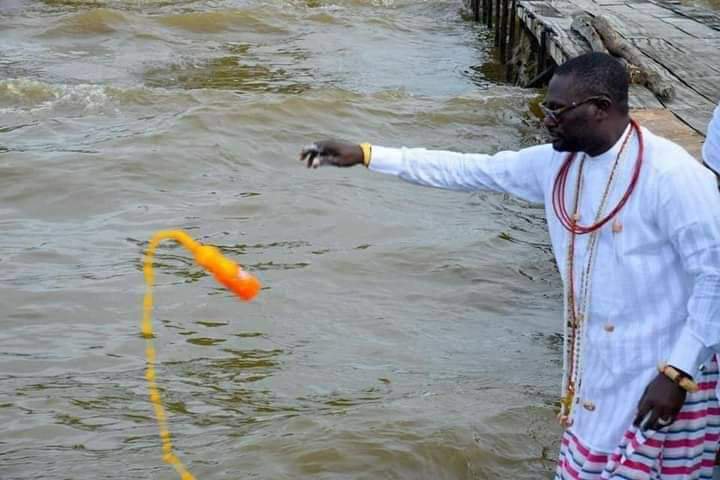 Another commentators, Prince Urhorho Koyoyo, revealed that one of the drinks worth N120, 000.
Hear him: "The drink wey near the gordons gin in that red carton is 120k, the gods they even drink very expensive wines.
"Okowhake Eguono Moses macallan rare cask whisky, this isn't club price.
While Assin Godstime, wrote: "Where God and gods meet.
Chief Ayirimi, fondly known in the past as 'Mr Bash Oloye' is by virtue of his traditional conferment the traditional Prime Minister of Warri Kingdom. Here he seeks the face of the gods to intervene on the controversy in lwere nation ".