FUTA, ONDO STATE TO DEEPEN COLLABORATION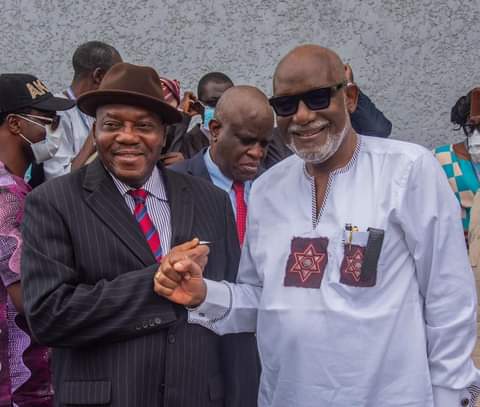 The Governor of Ondo State, Arakunrin Oluwarotimi Akeredolu (SAN), has described the Federal University of Technology, Akure, FUTA, as the leading university of technology in Nigeria. He made the assertion while playing host to members of the Governing Council of the Institution that paid him a courtesy visit on Tuesday, 7th September.
The Governing Council was led by the Pro chancellor and Chairman, Ambassador (Dr.) Godknows Boladei Igali (OON). Governor Akeredolu who described himself as a friend of FUTA with robust relationship with past and present leadership of the institution said the relationship will further be deepened by the visit and enthusiasm shown by the new council chairman and members of his team.
Akeredolu said, "In Ondo State we take pride in FUTA and its achievements over time. I congratulate the university for its modest achievements over the years which has placed the state in the global map. I have serious connection with FUTA long ago, even before I became governor. Some of your Vice Chancellors who served in the past are my school mates, including the President of African Development Bank, Akinwunmi Adesina who is also a key associate of FUTA.
I share in the success story recorded by the university which our government has identified with through contributions and intervention from time to time. I am happy you acknowledged the contribution of this government in terms of partnership with your institution through the establishment of a Tech Hub, Bitumen exploration facility and donation of some structures by some prominent indigenes of the state facilitated by this government. This government also played a role in your College of Medicine through some interventions in appropriate places and donations of facilities that can kick start the college. With no political intentions, this government is ready to facilitate the usage of the Federal Medical Centre, Owo for the takeoff of the Clinical aspects at your College of Medicine before a permanent site is built. So far, we have been partners in progress, and we share in the success achieved by your staff and students."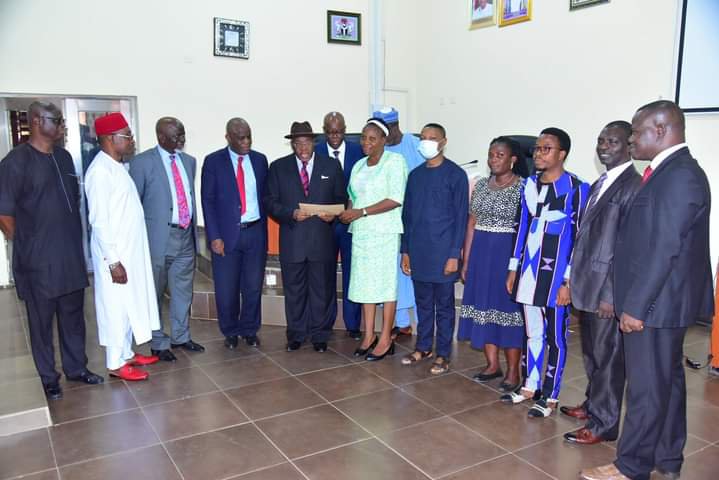 Speaking on the importance of technology to national development the governor said "we, no doubt, need Science and Technology as a country to enable us advance. We can do better than countries like China and Japan who took radical technological steps after studying in the United States of America and returning home to build their countries. This is only achievable in a peaceful atmosphere. Let us all be committed to making Nigeria a livable place. Let the upcoming generation be confident in living in their country with no fear.
Terrorists are invading our country, and this must stop. Something must be done. For us to thrive in Science and Technology, we need a secured environment."
Akeredolu also mentioned the role of technology inanimal husbandry, stating that open grazing is a forgone matter in the state.
He said cattle ranching, in modern way and using appropriate technology will achieve better milk production by cattle and make them thrive better .The governor assured his guests that the request for assistance on decongesting traffic at the university's South gate and construction of a taxi park at the North gate is under consideration and promised that a team of engineers from the state will soon visit the university for further discussions on modalities.
Speaking earlier, the Chairman of the Governing Council, Dr Igali said the essence of the visit was to cement the relationship FUTA has with Ondo State and further build on the solid foundation of his predecessors in office. He said the President, Muhammadu Buhari and the Honourable Minister of Education, Malam Adamu Adamu recently inaugurated the Governing Council with a mandate. He added that the President accords great importance to Science and Technology which informed the reason for establishing specialized universities many years ago. According to him, to develop a nation, Science and Technology is the way to go and the Governing Council has also resolved to make FUTA the leading Centre of Science and Technology in Nigeria.
He commended the support of Ondo State government towards the development of FUTA and the governor's intervention at critical times, especially in achieving the establishment of the College of Medicine. He said "we appreciate your support towards the growth and development of the university in addition to that of the Federal government. Your government has assisted FUTA in many ways through collaborations and infrastructure development.
As a nation we can't continue to depend on petroleum, thus the importance of bitumen exploration which is a major area of collaboration between your government and our university. We are willing and ready to work closely with your government in bitumen exploration which is also a critical mineral resource which your state is blessed with, and which can boost revenue generation. I want to assure you that we have a team of expert in this area within our faculties."
Dr. Igali acknowledged Akeredolu's readiness to assist the university in decongesting traffic around the two gates of the university. "With a population of over 25,000, which keeps growing, we certainly need to work on traffic situations at our entrances. With your promise to assist, which we count on, we know that will soon become history, especially building a taxi park."
Governor Akeredolu and Dr. Igali praised the recent achievements by students of the university which has further added value to the institution. Mention was made of Daniel Adeniyi who emerged a joint winner of the 2021 edition of the Committee of Deans of Engineering and Technology of Nigerian Universities' (CODET) National Engineering Project Competition and Augustina Oyebadejo, of the Department of Fisheries and Aquaculture Technology, who emerged one of the two winners of the 2021 Women in Aquaculture Global Scholarship Programme with applications from over 30 countries.
Dr. Igali-led Council members (external and Internal) and university management at the event were Dr. (Mrs.) Bridget Zidon; Nasir Isa Abubakar; Dr. Ikechukwu Odikpo; Chief Jamiu Afolabi Ekungba; Mr. Achede Joseph Owoicho; Prof. (Mrs.) Oluwatooyin Osundahunsi; Prof. Stephen Ayorinde; Prof. (Mrs.) Oluwayemisi Adeparusi; Prof. Benjamin Akinyele; Prof. Akin Fasoranbaku; Prof. Boniface Alese; the Vice Chancellor, Professor Joseph Adeola Fuwape; Deputy Vice Chancellor (Academic), Professor Deji Ogunsemi; Registrar, Mr. Richard Arifalo and Deputy Director, Corporate Communications and Protocol, Mr. Adegbenro Adebanjo.
The team was received by the Governor, Oluwarotimi Akeredolu (SAN); Deputy Governor, Lucky Aiyedatiwa; Secretary to the State Government, Princess Catherine Oladunni Odu; Chief of Staff, Chief Olugbenga Ale; Head of Service, Pastor John Adeyemo; Commissioner for Information and Orientation, Mr. Donald Ojogo; Commissioner for Justice and Attorney General, Sir Charles Titiloye and Permanent Secretary, Ministry of Education Science and Technology, Mrs. Lola Amuda.