Invasion of Fikoru-Ama by armed men: Bayelsa Govt, security agencies asked to intervene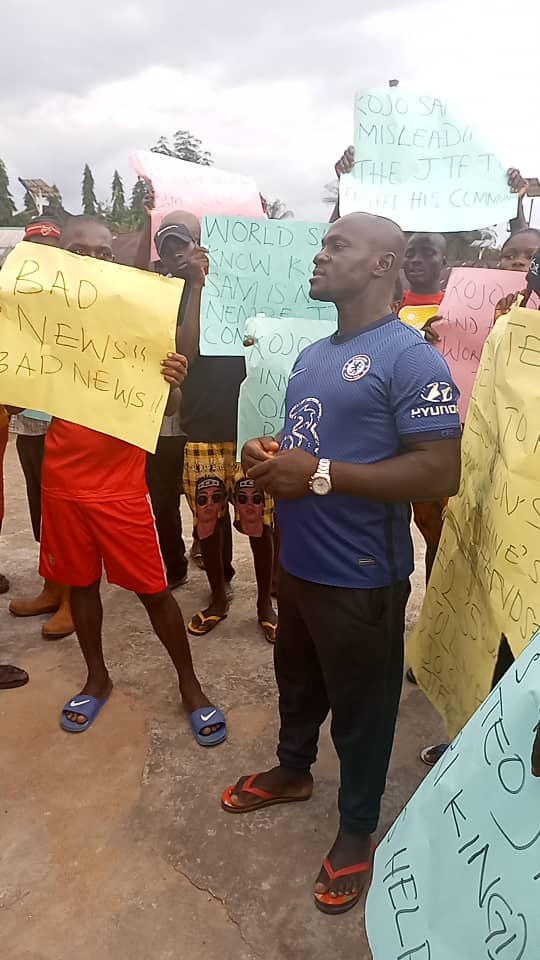 ••••Kojo Sam, Okpoama youth president deny culpability
Nembe—Comrade Symbol Gamage, youth president of Oluasiri clan, in Nembe local government area of Bayelsa state has condemned the reported invasion of Fikoru-Ama community, Royal FM reports.
The youth leader described the invasion as sad, provoking and unwarranted, stressing that it has heightened tension in the community.
He revealed that last week Tuesday, armed men in military uniform, stormed the community and went straight to the house of one Gbalipre Gamage.
Gamage noted that they forcefully opened the door, gained entrance and after destroying properties worth thousands of naira, went away with his generator and a television set.
According to him, Oluasiri is not an AITEO impacted clan and wondered why Chief Kojo Sam, Director of Kojo Sam Logistic Services should extend his security tentacles to the Clan.
The youth president called on the Bayelsa State government and law enforcement agencies to intervene in the matter and bring the perpetrators to book.
Similarly, the youth president of Opu-Nembe Youth Federation, Engineer Ayerite Moses, alleged that the invaders were led to the community by people from Odioma and Okpoama communities.
While warning such youths against further occurrence, Moses also called on the state government and security agencies to investigate the matter and bring perpetrators to justice.
In a chat with our correspondent, the manager of Kojo Sam Logistics Ltd, Ernest Inengibofa, debunked claims that the invasion of Fikoru-Ama was orchestrated by Kojo Sam.
"The report given by the youth president of Oluasiri clan and Ayerite Moses (Youth President of Opu-Nembe ) is fallacious and inciting.
"Fikoru Ama in Oluasiri was never invaded by Kojo Sam. It was rather an Operation Delta Safe (OPDS) operation based on information gathered concerning illegal refinery in Oluasiri precisely owned by Mr. Gbalipre Gamage and others in Fikoru ama," he stated.
Inengibofa added that "OPDS in line with the information went to the said location and affirmatively confirmed the illegal bunkering camp as speculated and further moved to Gbalipre's residence for questioning, but he absconded upon seeing them.
"No item was stolen or destroyed at his residence, but rather the OPDS discovered some rifles suspected to be owned by him."
Also responding, Mr. Attah Iniekailanyo, Okpoama Kingdom Youth President, stated that operations of Kojo Sam Logistics Ltd are usually carried out in Bassambiri, Ogbolomabiri, Okpoama, Odioama, Oluasiri, Etieama, inter alia.
According to him, the company's operations are normally carried out in collaboration with the Joint Task Force (JTF) and the National Security and Civil Defence Corps (NSCDC).