Ogbia Federal Lawmaker Distributes Entrepreneurship Kits To Empower Thousands Of Constituents To Be Self-Reliant And Employer's Of Labour (See Photos)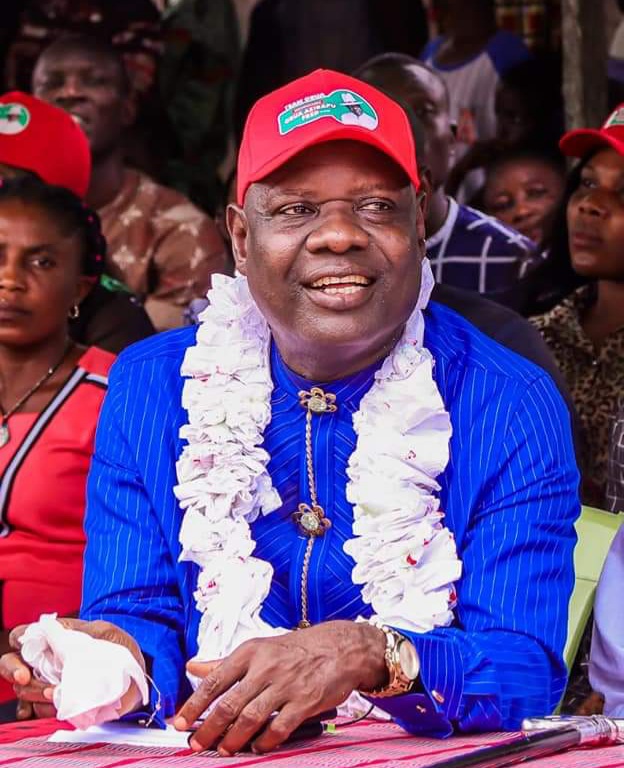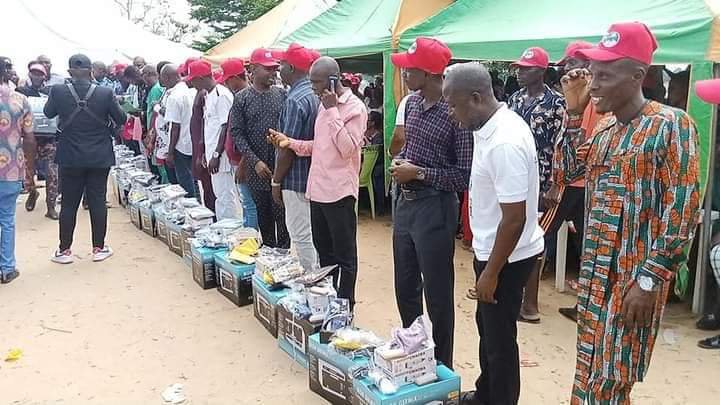 Rt Hon Azibapu Fred Obua, Member representing Ogbia Federal Constituency in the House of Representatives of the Federal Republic of Nigeria and Deputy Chairman House Committee on Information and National Orientation, on Tuesday, 28th September, 2021 distributed empowerment packages to thousands of his Constituents with a call on them not to sell the items or under-utilized them.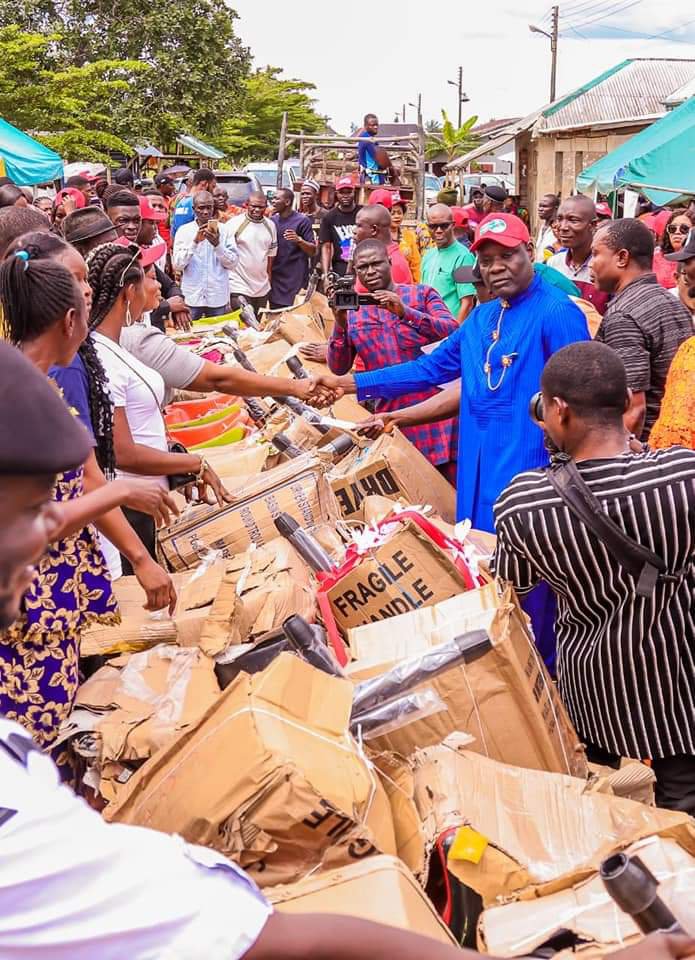 Rt Hon Azibapu Fred Obua had about a month ago provided educational materials to all public primary and Secondary Schools accross Ogbia Federal Constituency at Emeyal 2 and last Monday, empowered hundreds of Youths and Women of his Ogbia Federal Constituency with Motorcycles, Refrigerators, Power Generating Sets and Computer Systems with starter Packages at Elebele, and has been working hard to empower Men, Women and Youths in his Ogbia Federal Constituency since his election and swearing-in as Honourable Member Representing Ogbia Federal Constituency in the House of Representatives.
The Constituents-Beneficiaries were presented with entrepreneurial items which includes: Sewing and Grinding Machines, Women Hair making and Face Make-up Materials, Barbing Saloon tools as well as starter-packages to facilitate the take-off of various businesses.
Speaking while distributing the items to the Beneficiaries in Otuokpoti, Ogbia Local Government Area of Bayelsa State, Rt Hon Obua said the empowerment was part of his continuous efforts at providing improved living conditions to the people of Ogbia Federal Constituency to complement Gov. Douye Diri's efforts at rebooting the Bayelsa's local economy.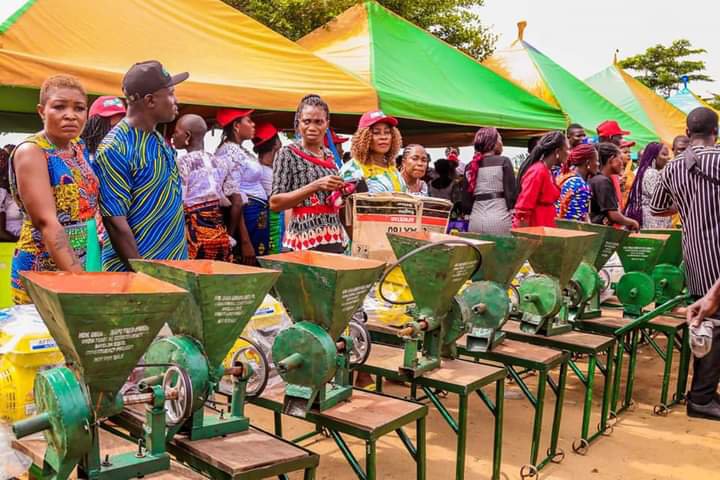 The Fellow of the Institute of Quantity Surveyors and former Commissioner of special Projects added that the empowerment programme was aimed at making Beneficiaries self-reliant and Employers of Labour, noting that his inputs and motivations will reduce the rate of unemployment, over-dependence of Youths and Women of his Federal Constituency.
Rt Hon Obua who also remarked that he will ensure that the House of Representatives' resolution mandating the Niger Delta Development Commission, NDDC, to immediately construct the Ogu-Anyama-Okodi road becomes a thing of the pass in no distant time, thanked the Ogbia People for always being supportive.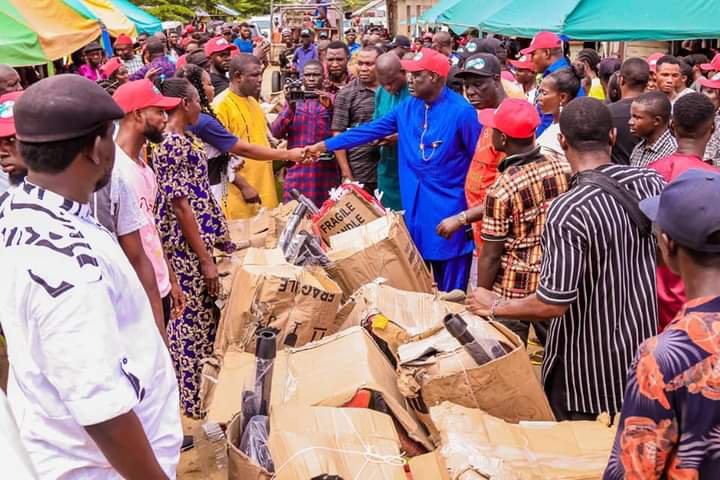 Some of the beneficiaries of the latest Constituency empowerment, thanked Rt Hon Obua for remembering and empowering them.
Unity Ototo, a beneficiary of the items, commended Rt Hon Obua over the gesture, adding that it would go a long way to reduce poverty in the Local Government Area.
She promised that the Beneficiaries will judiciously use the materials provided to them by Rt Hon Obua, stressing that they can now become self-reliant and employ others, to reduce unemployment and poverty in the Federal Constituency.
In his good will message, His Royal Highness, Chief A. C. T Wongo, Obanema of Otuokpoti Community, Okpoti the 14th, who chaired the occasion appreciated Rt Hon Obua for his good works, calling on him to continue his good works.
Speaking at the sidelines of the event, Hon Heliot Osomu, former Member of the Bayelsa State House of Assembly commended the unprecedented gesture of Rt Hon Obua, adding that many families will now have means of livelihood.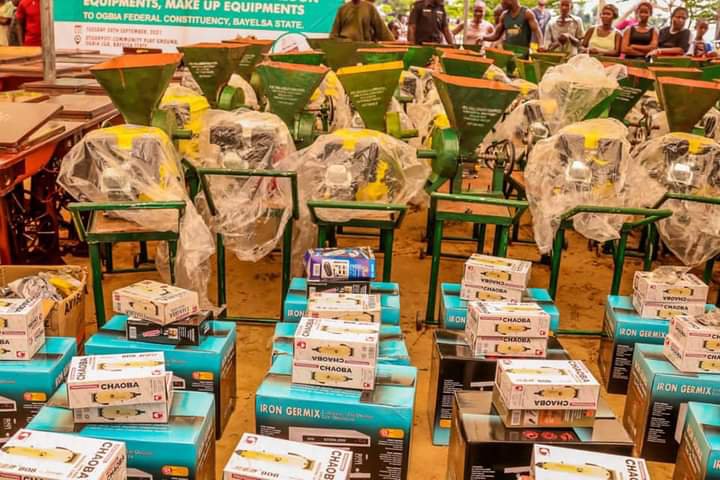 Present at the event, were Hon Federal Otokito, Commissioner for Investment and Industry;
Mr. Chidi Anthony, the Representative of the Federal Ministry of Agriculture and Rural Development; Hon Gabriel Ogbara, Special Adviser 2 on Political Matters to the Governor; High Chief Don Evarada, Technical Adviser on Public Affairs to the Governor; Hon Azibataman Johnbull, Member of the Local Government Service Commission; Representative of King N. D. Amakuro, Acting Obanobhan of Emeyal Clan; Chief Sopana Agala, Obanema of Anyama Community; Chief Johnny Johnny, Obanema of Ologoghe Community; Chief Bams Ominigbo, Obanema of Kolo; amongst other top Government Functionaries and Critical Stakeholders.
High point of the event was the Official commissioning of the entrepreneurship kits and the eventual presentation of the materials.