Uzodinma hails Buhari for ending IPOB agitation in Imo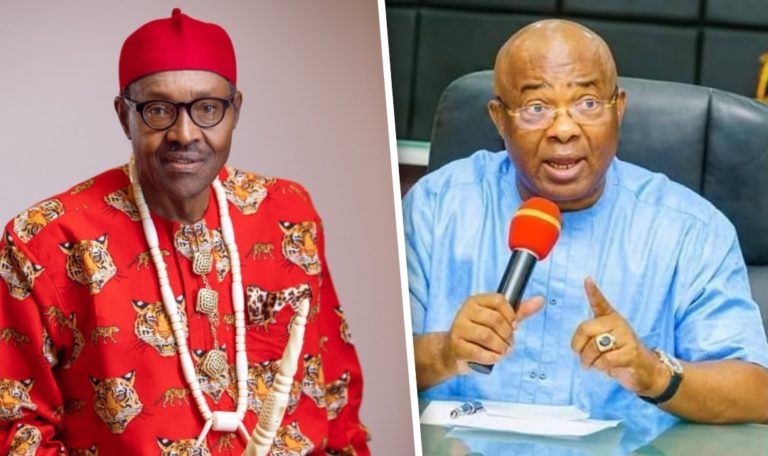 Mr Uzodinma gave the hailing on Thursday in Owerri as Mr Buhari was in the state to inaugurate four key projects.
Imo State governor, Hope Uzodinma, has thanked President Muhammadu Buhari for ending the demonstrations of the Indigenous People of Biafra, IPOB, which he described as "politically-contrived security breach", in Imo.
Mr Uzodinma gave the hailing on Thursday in Owerri as Mr Buhari was in the state to inaugurate four key projects.
Imo state, the heartland of the South-East region of the country, has become the epicenter of secessionist agitations by the Igbos led by IPOB.
Imo has seen escalated violence and attacks on public establishment, including the governor's country home, following the killing of Eastern Security Network commander Ikonso by state forces.
IPOB claims it established ESN to combat security threats of marauding Fulani herdsmen in the region due to laxity of governments and political leaders.
The federal government however responded with major military onslaught which critics say infringed on the rights of innocent citizens of the area of combat.
Yet, IPOB has continued to order weekly sit-at-home to protest the capture of its leader Nnamdi Kanu who is in State Security Service's detention.
Mr Uzodimma, in his speech on Thursday, expressed joy that Mr Buhari made the visit, "despite challenges".
Addressing the people on the occasion in Owerri, Mr Buhari said he was convinced that Mr Uzodinma "is working very hard to get things that are necessary for the good life of the people of the state."
Mr Buhari said: "Seeing is believing. I received an invitation to come and see what the governor wanted me to see.
"I'm really impressed with what he has done."
The president, who emphasised the importance of infrastructure and security, said Mr Uzodimma was going through the same problem as himself at the center to make sure that infrastructure was in place.
He promised to assist Imo State within the provisions of the Constitution.
Some of the projects inaugurated by Mr Buhari include: Dick Tiger and Nwoha road, Egbeada Bypass, and the new Executive Council Chamber.
Mr Uzodinma described the projects as strategically and economically important to the people of the state.
He expressed his administration's commitment to the peace and unity of the country by building a mini-Nigeria within the state.
The chairman of South-East Governors' Forum and governor of Ebonyi, Dave Umahi, and Andy Uba, the governorship candidate of the All Progressives Congress in Anambra, attended the event.
Also in attendance were some ministers and presidential aides from the South-East, the Executive Secretary, National Agricultural Land Development Authority, Paul Ikonne, and other top federal and state government functionaries.