Why Abia College of Education prevents 2017 set from graduating: Provost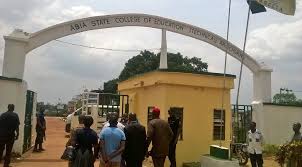 Mr Ntoo accused students complaining of not meeting the Abia State University requirements for transiting from NCE to Bachelors degree studies.
The Provost of Abia State College of Education (Technical), Arochukwu, (ASCETA), Phillip Ntoo, has explained why the graduation of school's 2017 set is delayed.
Mr Ntoo accused students complaining of not meeting the Abia State University requirements for transiting from NCE dd4ahead of their graduation.
He further explained that other students, who had not paid their dues, were also affected and this explained why some of the students, due for graduation five years ago, were yet to get their results and NYSC call-up letter.
The provost was responding to allegations that he refused to pay ABSU what was due to the university, to enable them release the students' results and mobilise them for national service.
He explained that he inherited some problems in the college from the past management, which included non-payment of fees agreed with ABSU before starting its degree programme.
Some ASCETA students, who spoke on the condition of anonymity for fear of victimisation, claimed that since 2017, they had not received their results or mobilised for the NYSC.
They attributed their problem to ASCETA's refusal to remit to ABSU students' fees in violation of a Memorandum of Understanding (MOU) with the university, on affiliating the programme for the award of Bachelor's degrees.
"I have graduated for five years now, I have not had my certificate because ACETA has refused to keep to the agreement they had with the Abia State University (ABSU), Uturu," said one of the students. "They signed an MOU when the degree programme started in 2009 that a percentage of our school fees will be paid to ABSU, which would graduate, award us degrees and mobilize us for NYSC."
He added, "However, since the present ASCETA management took over, they have not been paying ABSU, which is the reason ABSU stopped issuing our certificates and ended the process of mobilizing ASCETA students for youth service. Out of frustration, a 2019 set returned to ASCETA and pleaded with ASCETA to move their results to ABSU and then they went and paid ABSU the money ASCETA should have remitted to ABSU to smoothen the process."
When contacted, ABSU's spokesman Chijioke Nwogu said payments needed to be made to the institution before the processing of ASCETA's results, stating that if the fees are paid, the students would get their results.
(NAN)