2022 budget: Buhari, Lawan disagree on Nigeria's debt profile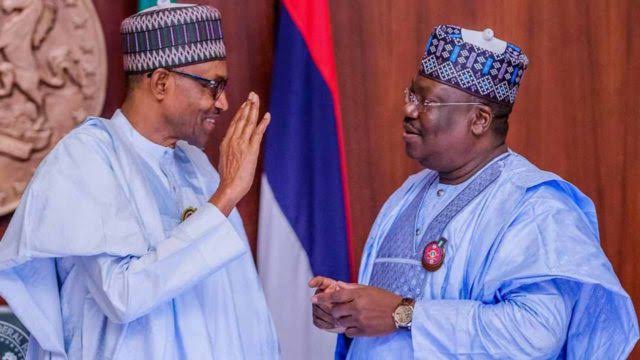 President Muhammadu Buhari and the President of the Senate, Ahmad Lawan, on Thursday took varied positions on the level of Nigeria's debt profile.
The occasion was the presentation of the 2022 Budget Estimates by President Buhari before a joint session of the National Assembly.
Tracknews Online checks revealed that provision for debt servicing in the 2022 budget stood at N3.61 trillion.
Senator Lawan in his opening remarks said the continuous external borrowing was a cause for concern and advised the federal government to seek other sources of funding the budget.
He said: "Mr President, the need to enhance revenue generation and collection cannot be overemphasized. The level of the budget deficit is high, and both the Legislature and the Executive should work to reduce this deficit through the availability of more revenues.
"I must commend the Senate and House Committees on Finance and the Ministry of Finance, Budget and National Planning for working together to improve the level of revenues for the government.
"Mr President, we understand that due to paucity of revenue, the Federal Government has to resort to raising funds from foreign and domestic sources to provide infrastructure across the country. That is why the National Assembly approved the requests for borrowing.
"The commitment of the Federal Government in providing infrastructure across the country means that the funds must be raised one way or the other. Government should also explore other sources of funding its projects in order to reduce borrowing."
• It is within sustainable limit ― President
While presenting the budget, President Buhari claimed that the national debt profile was nothing to worry about, submitting that it was within a sustainable limit.
He further argued that the loans, both local and external were being tied to verifiable projects aimed at stimulating economic growth and development.
He said: "Some have expressed concern over our resort to borrowing to finance our fiscal gaps. They are right to be concerned. However, we believe that the debt level of the Federal Government is still within sustainable limits. Borrowings are to specific strategic projects and can be verified publicly.
"As you are aware, we have witnessed two economic recessions within the period of this administration. In both cases, we had to spend our way out of recession, which necessitated a resort to growing the public debt. It is unlikely that our recovery from each of the two recessions would have grown as fast without the sustained government expenditure funded by debt.
"Our target over the medium term is to grow our Revenue-to-GDP ratio from about 8 percent currently to 15 percent by 2025. At that level of revenues, the Debt-Service-to-Revenue ratio will cease to be worrying. Put simply, we do not have a debt sustainability problem, but a revenue challenge that we are determined to tackle to ensure our debts remain sustainable.
"Very importantly, we have endeavoured to use the loans to finance critical development projects and programmes aimed at improving our economic environment and ensuring effective delivery of public services to our people.
"We focused on the completion of major road and rail projects; the effective implementation of power sector projects; the provision of potable water; construction of irrigation infrastructure and dams across the country; and critical health projects such as the strengthening of national emergency medical services and ambulance system, procurement of vaccines, polio eradication and upgrading Primary Health Care Centres across the six geopolitical zones."
Senators who spoke after President Buhari presentation equally allayed the fears of Nigerians.
Senator representing Lagos West and Chairman Senate Committee on Finance, Olamilekan Adeola, said he was not bothered about the rising debt profile.
He said: "The budget is tagged, Budget of Sustainability. I believe it is a budget of hope, we hope it will take us out of misery given critical attention to education and security.
"Mr President has given assurance that the deficit will be financed by borrowing. He has said we have nothing to fear, the borrowed funds are tied to specific verifiable projects. We are convinced it will take care of our needs.
"I am not bothered about the debt profile. He has given us an outline of how he is going to finance the loans. With time, the direction the budget will take will be unveiled."
Senator representing Ekiti Central, Michael Opeyemi Bamidele also justified the borrowing and expressed the hope that both the parliament and ordinary Nigerians would be vigilant to ensure that borrowed funds were judiciously utilised.
"The budget estimate as laid goes to show consciousness on the part of the leadership that this is not yet Uhuru. We must spend our way out of recession. Recurrent expenditure is taking more money. Of course, I concede that government must have a human face. But capital spending will help to develop our infrastructures. By and large, what is important is implementation by ensuring that the Ministries, Department and Agencies are able to implement diligently and we don't fail in our oversight to monitor the spending and for Nigerians at large to monitor in their various constituencies.
We must all ensure that every Naira borrowed are spent on capital projects that will percolate to the ordinary Nigerians and take us out of recession."
Senator Uba Sani who is Chairman of the Senate Committee on Banking and Finance equally expressed confidence that the target of President Buhari was to develop critical social infrastructures.
"Mr President has talked about infrastructure development and education. For me, these are key to a country growth and development.
"For us as National Assembly, we need to increase the level of oversight to ensure that key revenue-generating agencies add value to the federation account."