Father Mbaka Releases Fresh Prophecies, Warns Buhari Against Buying Private Jets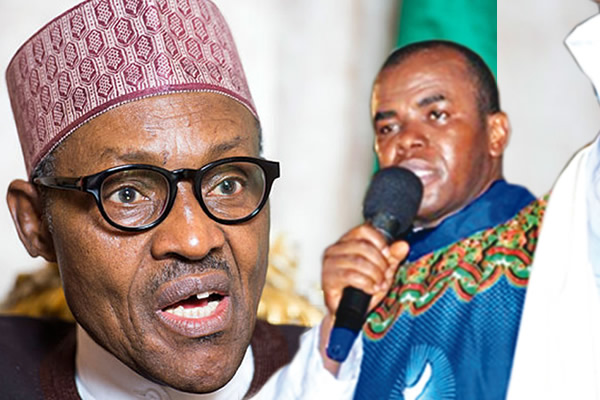 Spiritual Director of Adoration Ministry, Enugu, Nigeria, Rev. Fr. Ejike Mbaka, has warned President Muhammadu Buhari to stop buying jets.
He gave the warning in fresh prophecies released while delivering a sermon at Adoration Ministries on Sunday.
In a video post on the ministries social media pages, Father Mbaka stated that such jets would be used to collapse the country.
According to the controversial cleric, President Buhari should instead build industries that will offer jobs to young people.
Father Mbaka urged Buhari to listen to the agitations of individual to bring lasting peace to the country.
Mbaka said: "The president should take this message, the jets you are buying are going to be used to be used to collapse Nigeria. Please the first person to meet President Buhari after this message should tell him that all these jets they are buying are going to be used, God told me to tell him that all these jets are going to be used to destroy Nigeria, let him stop buying more jets and begin to build more industries.
"We don't want to hear that our children are being killed, those that are being bombed are Nigerians. Nobody is going to give an award to a father or a mother for killing his or her children.
"The solution is simple, put the round peg in a round hole and banditry will die – people are not agitating for nothing, listen to the reason for the agitation because even in the military there is agitation, in the police there is agitation, in the church there is agitation, in the families people are agitating, drivers are agitating, businessmen are agitating, use the money to solve the problem, otherwise you are buying jets that aggrieved people take up and scatter you people, if it doesn't happen soon it will happen later.
"Do you know how many billions that are used to buy these jets? If they put some of these billions in job creations the youths will be busy, parents will be happy that their children are going to work and coming back, stop dashing money, we don't need the money dashing syndrome.
"We have young men who can do any type of work in abroad. It's (buying of jets) an avenue to create opportunity to swindle money without explanation. Who is fooling who actually? The spirit of God is not happy with our leaders no matter how they want to paint it, if the whole men of God will be silent the spirit of God cannot be silent.
"When the poor masses are crying we men of God should be crying with them because they are our children, they call me father and if I am a father I cannot be calm and my children are being killed."