'It's Illegal To Be Pro Biafra' Nigerians React To Actor Chinwetalu Agu's Arrest For Wearing Biafran Flag Outfit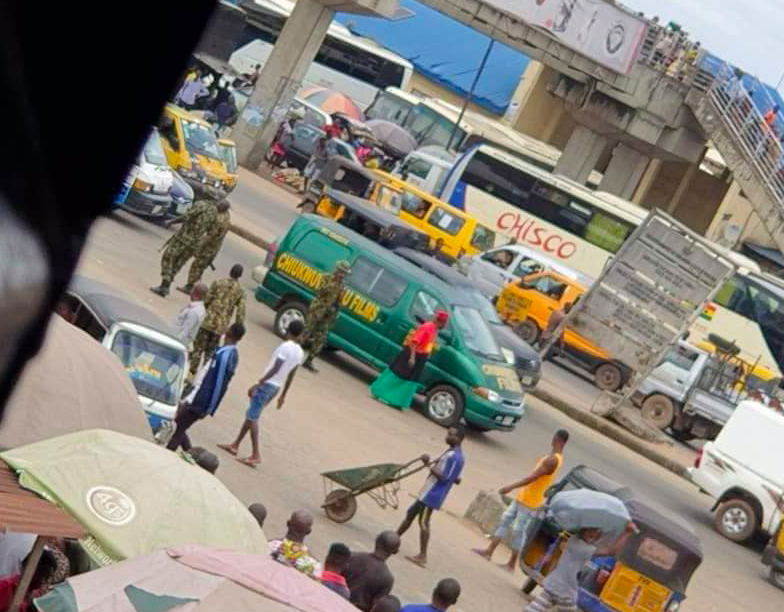 Nigerians have taken to social media platforms to express their concerns after soldiers reportedly harassed veteran actor, Chinwetalu Agu for wearing the Biafran flag.
Tracknews Online earlier reported that the 65-year-old actor was harassed by soldiers for wearing an outfit with colours of the Biafran flag.
It was gathered that the Nigerian soldiers had stopped the Nollywood actor, bringing him out of his vehicle for interrogation.
The actor was spotted out of his car which had the inscription "Chinwetalu Films". The car was then searched by the security operatives before he was manhandled by the soldiers who fired some shots to scare off the crowd which gathered.
The incident reportedly occurred today October 7, at Upper Iweka in Onitsha, Anambra state.
The reports have however stirred reactions as fans of the actor took to social media to raise their concerns and displeasure.
See reactions below;
regy_ritzy wrote; "But why can't they channel this same energy to eradicating terrorism,banditry and it's likes in the country especially in the northern side of the country. It's only in the east they always have the wisdom to come up with ridiculous missions. If it's not python dance to its new dawn. New dawn my foot. Mtcheeew"
chiblue0202 wrote; 'Just imagine this people …. they better free him'
pokohuntaz wrote; 'He will visit the shrine to punish them.'
brendan_ukagod wrote; 'Ekwensu eromanca mami water.'
originaldemmybackuppage wrote; "He probably has dementia because"
ziraglam wrote; "He shouldn't have dressed that way and walking around the town knowing fully well the government haven't approved Biafra and soldiers too everywhere. Abeg this soldiers should take it easy on him o he is old enough to be their father'
gwenshuga1 wrote; 'I don't understand. What has Biafra flag got to do with army'
i_am_candydessie wrote; 'What's this nonsense now. I too like this man fr movies pls let him go'
sleekie9.0 wrote; "Why wear such in such a crucial time tho.There are several other ways he could have made his opinions known to the government rather than putting himself in such an avoidable situation."
shes_spotless wrote; 'It's Illegal To Be Pro Biafra'
gideonakachukwuokorie wrote;'Not just arrested.. He was maimed and brutalized.. I saw the video'
Naija News recalls that the Federal Government had banned the flying of the Biafra flag in the southeast following the now-violent agitations by the outlawed Indigenous People of Biafra, IPOB.