Nigeria Security and Civil Defence Corps Boss, Audi Accused Of Corruption, Multi-billion Naira Fraud, Failure To Pay Contractors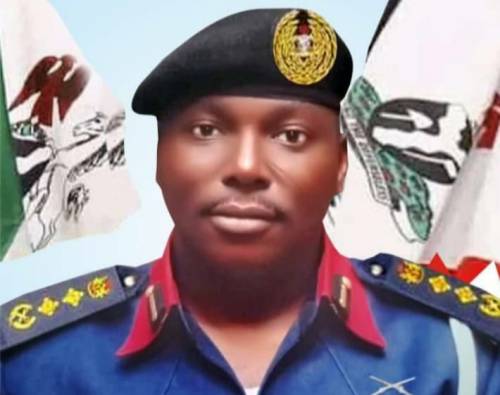 Audi upon assumption of office embarked on a massive redeployment campaign that paved the way for his cronies.
The Commandant General of the Nigeria Security and Civil Defence Corps (NSCDC), Ahmed Abubakar Audi, has been accused of awarding fraudulent multi-billion naira contracts without recourse to procedure and due process.
A source in the para-military organisation told TrackNews Online that Audi has turned the NSCDC into a "personal fiefdom with funds spirited out almost daily."
The source, who spoke on condition of anonymity for fear of victimisation, stated that since the Commandant General assumed leadership of the organisation in February 2021, he has awarded different contracts in flagrant violation of procurement processes.
"It is such an eyesore at the NSCDC, and if things continue in this manner, Nigerians might one day wake up to the rude shock of their lives. Contracts are awarded only to companies endorsed by the CG. In most cases, monies are paid upfront and without proof of execution or competence by the companies," the source told TrackNews Online
He further added that Audi upon assumption of office embarked on a massive redeployment campaign that paved the way for his cronies.
"It is sad that the CG decided to throw caution to the wind with postings and redeployments. We had situations where junior and inexperienced officers were given command and sensitive positions, while the qualified and experienced officers were given obscure postings that make them more or less redundant," the source said.
Another officer in the finance department stated that Audi has stopped all payments to contractors he inherited even with their job completion certificates.
"The CG asked for all pending payment vouchers and locked them up in his office. Instead, he has instructed that all contractors who are not his favourites should not be allowed into the premises of the organisation. It didn't stop there. The CG has suspended payment of allowances of workers, citing lack of funds, yet, payments are made daily to his cronies under various nomenclatures.
"I can tell you authoritatively that the morale of the workforce at the NSCDC is at its lowest, a first in the annals of the organisation. The staff dare not complain, else you would be pencilled down for punitive punishment," the officer told TrackNews Online
SaharaReporters further gathered that the procurement department of the agency is now under the direct supervision of the Commandant General.
"He decides who gets what at any given time under a notorious kickback regime that sees the CG receiving kickback in hundreds of millions (of naira) for jobs that were overinflated and not executed," the officer added.
Speaking with TrackNews Online a contractor working with NSCDC stated, "I made supplies to the NSCDC to the tune of N65 million, and for no reason, I was told my file is missing. Then one of the aides to the CG approached me with an offer to bring in cash 40 per cent of the money I'm being owed and that my papers would be processed. I offered 20 per cent, but it was rejected, and that is where we are to date.
"Some other contractors were also asked to bring as much as 50 per cent before their documents would be processed. It is such a shame that such a thing is happening under a government supposedly fighting corruption. I wish the government could beam its light on the NSCDC; the revelations would be mind-boggling."
Another contractor who claimed he took a loan to execute a project for the organisation said he wasn't paid because Audi felt he was a front for the former CG.
"I was told to my face that I would never be paid and that I was a front for the former CG. I provided documents to show how I qualified and executed the project with a bank loan. I also showed them bank documents of my indebtedness and the accruing interest rate. But it fell on deaf ears," he said.
"As it stands, what is happening at the NSCDC is worse than hell. Those who have executed projects are treated shabbily, while some obscure companies without Corporate Affairs Commission (CAC) registration are smiling to the bank. We know these are cronies of the CG. But is that fair?
"There is massive corruption at the NSCDC, and the CG is every inch a nepotic individual. He has carried on like an untouchable emperor whose only mission is to amass ill-gotten wealth, not minding the implication of his actions on the operational efficiency of the organisation.
"We have made a case with the relevant authorities at the Ministry of Interior, and till date, nothing has been done. Maybe he is acting with the support of some vested interest whose desire is to see to the running down of the organisation. This is indeed sad."
There have been calls for the sacking of Audi in recent times because of the way he has been running the organisation since he assumed leadership