Changing The Narrative: How Abdulrafiu Toheeb Graduated With 4.64 CGPA at The Department of Economics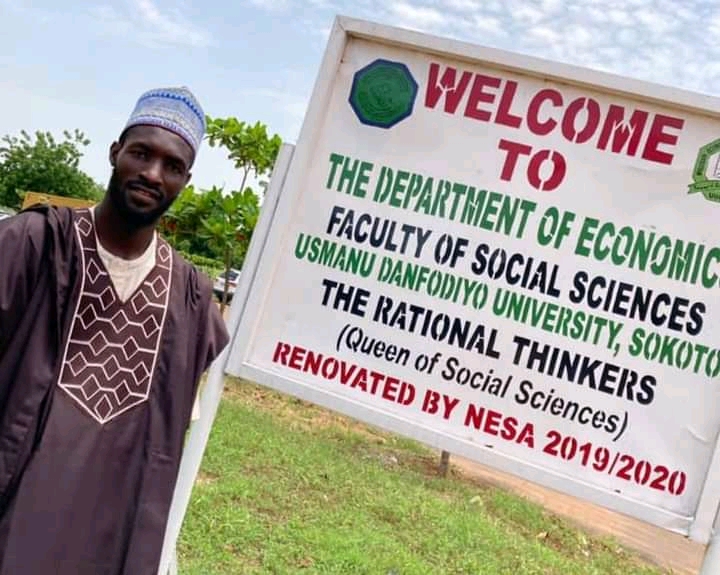 By Promise Eze
It came as a surprise that one can actually earn first class at the department of economics. For years it has been rumoured by students and others that earning first class at the department of economics is a tall order. It's a task almost impossible, they claimed. So when Abdulrafiu Toheeb broke a decade–old jinx by graduating with a CGPA of 4.64 the entire campus was shocked.
So how did he achieve this feat? I interviewed Toheed to find out. Here is the inside story.
The Narrative: Good Grades Are Impossible To Get
The young man came into Usmanu Danfodiyo University, Sokoto, with big dreams for himself. But no sooner had he placed his foot on the desert sands on campus did discouragements from people hit him hard. He was told that economics was a tough department and that it was impossible to earn good grades. Toheeb's hope for a smooth ride on campus was shattered. He almost gave up. But he encouraged himself to keep moving.
Taking a cue from Idris Mubarak Maibasira, a 300 level student at the department of economics who later became the Students' Union president, Toheeb vowed to work for nothing but straight As in all his courses.
Idris Mubarak Maibasira was rumoured to be an outstanding student. Toheed took him to be a role model.
"I remember when someone told me and my friends that Maibasira had straight As in a semester or so. The way people portrayed economics department made it seem he was a magician.
"But against all odds I promised myself that I would do better. Right from my 100 level I beat his 9As and the same person who told me the Mai Basira story upon hearing mine saluted me," said Toheeb.
Changing The Narrative—The Strategy Was His Reading Method
During his first three years, he resided at a village some 30 to 40 minutes away from school. Having known that the department of economics is no playing ground he had to buckle up.
He made it a habit to read in the mornings as early as possible. After observing his morning prayers he would from the masjid head to a nearby primary school to study. He wouldn't go back home till 4 pm and after observing his eveving prayers he would leave to read again.
"Although the trend did change eventually, I always believed in reading in the earliest hours because that's when I comprehended more and it had a lot of advantages," said Toheeb.
Toheeb would make summaries of his notes and explain them to himself. He did all he could to understand what he studied and if it proved difficult to understand he would resort to explaining what he was reading to his course mates. This enabled him to become familiar with the concept and context of the course and it saved me the stress of repetitive reading. He never had a reading partner. He would only engage in group discussions occasionally. His reading pace and style was very different from his friends so he couldn't pair with anyone.
Economics is laden with mathematics. And mathematics proved to be a challenge to Toheeb. He lacked dexterity in calculations from his secondary school days. He would skip mathematics classes and he disdained maths teachers. But knowing full well that mathematics is part and parcel of economics he had no choice than to love it.
"I had a friend at the time — a student at the department of physics whom I met regularly to guide me in mathematics. He didn't teach me much, sadly He just gave me some steps to note while solving and adviced me to practice mathematics regularly. I spent a lot of sleepless nights practicing and soon there was practically no question in calculus I couldn't solve," Toheeb explained.
Did Toheeb Ever Fall in Love?
At first, relationship to Toheeb was a no go area. It semmed poisonous to him. But in 300L he succumbed to the power of love.
"My girlfriend encouraged me. She gave me reasons to read more. In fact, she would challenge me to be a better person," he said.
Who Were His Friends?
"I didn't really hang around school except during lecture hours. After receiving lectures I head for home as the crow flies. So, I was hardly seen around people. But I made few friends who were in my department too. My friends were avid readers. I used to think they were the reincarnation of Adam Smith," Toheed said.
Extracurricular Activities Did Not Affect His Grades Negatively
Contrary to popular belief that engaging in extracurricular activities could bring one's CGPA down, Toheed was a member of a renown club on campus—the African Students for Liberty, UDUS Chapter, and this did not bring down his grades. Instead, it made him even more brilliant. In fact, this year he was the winner of two reading challenges in September and October respectively.
Toheed's Advice For Students Still In School
"As students we have individual differences. The best way to go about this is understanding where our own weakness are and taking the necessary actions to fight them.
"What has always been a problem I noticed is our individual self-pride. You can't ask me because we're course mates and you don't want me to feel I'm superior to you. This is detrimental to our growth. We need to learn how to organize ourselves into learning groups, discussion groups and learn from each other. Not all things are taught in classes," Toheeb advised.
And He Changed The Narrative
He did not succumb to the power of the forces that came to drain him of the dreams he had for himself. He did not kowtow to failure. Economics is difficult, they say. But somebody has just proven that with hard work it can be indeed easy. We should all take a cue from Toheeb.
—
About The Writer
Promise Eze is a brilliant reporter of high repute.