Ghana's Parliament Rejects 2022 Budget Amid MPs Walkout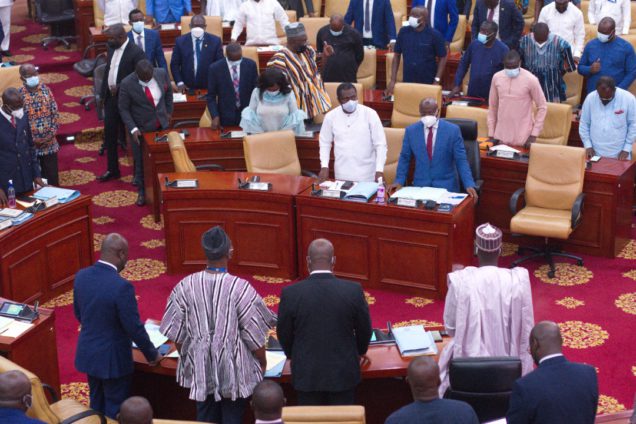 Ghanian Parliamentarians have rejected the 2022 budget which was presented by the Finance Minister, Ken Ofori-Atta last week Wednesday.
This is the first time in the fourth Republic that a budget has been rejected. Although the Majority were not present to participate in the exercise, the Speaker said their absence would not prevent the House from proceeding with the business of the day.
Since the presentation of the budget by Ken Ofori-Atta, the Minority have vowed to oppose it, saying its approval will impose hardship on Ghanaians.
After a head-count which saw all Minority MPs on their feet in opposition to a motion for the Finance Minister to have a further engagement with the leadership of Parliament, the Speaker ruled that the budget had been rejected.
"The No's have it. The motion is accordingly lost," Alban Bagbin declared after the headcount.
Since the presentation of the budget by the Finance Minister on November 17, 2021, the NDC MPs have vowed to kick against it. They also cited that the approval of the budget will impose further hardship on Ghanaians.
One of the policies in the budget that the NDC MPs have kicked against is the introduction of a 1.75% electronic levy.
Minority Leader, Haruna Iddrisu, communicating his side's position to the government, said the e-levy proposal will further marginalize the poor and will defeat efforts at financial inclusion.
He added that the levy possesses all the elements of double taxation "and even the projection, 1.75% may as well work out to be 3.75%."
"Mr Speaker, our concern is whether the e-levy itself is not and would not be a disincentive to the growth of a digital economy in our country; and we are convinced that the e-levy may be as well be a disincentive to investment and a disincentive to private sector development in our country."
"We in the Minority may not and will not support the government with the introduction of that particular e-levy. We are unable to build a national consensus on that particular matter," he revealed
Meanwhile, in an interview, NPP MP for Adansi-Asokwa, K.T. Hammond said: "Read my lips, Parliament has not constitutionally rejected our budget, we shall return to the House on Tuesday, November 30."