"Gloom Mother-in-law Goes home at 64" – High Chief Godwin Adokeme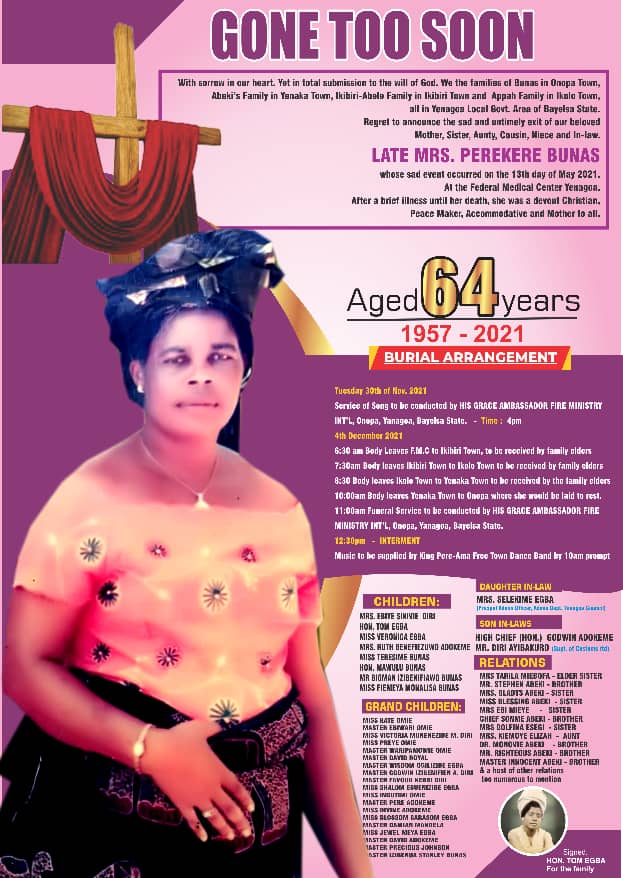 It was dull moments as High Chief Hon. Goodwin Adokeme announce the death of his mother-in-law, Mrs. Perekere Bunas.
TrackNews Online gathered that the deceased will be buried on the 4th and other main interment services would follow also on 8th December, 2021 at Onopa Yenagoa Local Government Area of Bayelsa State.
During an interview with the Track News Online about how the High Chief Godwin Adokeme felt about the sudden loss, he commented that "Once human being is born from the state of subconsciousness at the call of nature, such human will go back to the same state where man emanates from accordingly" He used the quotation above to show that such is the case with Mama Perekere Bunas.
As Track News Online is told, Mama Perekere Bunas was born to the family of Abeki in Yenagoa Local Government Area and the family of Asuata at Ikibiri respectively, all of Bayelsa State.
"Mama Bunas was indeed a God-fearing mother who have impacted life positively in several ways. Indeed, Mama was a virtuous woman as ascertained by Colossians 3 of the Holy Bible during her lifetime. Unfortunately, according to nature, the dark hour of death came calling!"
As noted by the family, "Mama struggled vehemently with her last strength three good days before she finally bowed to the cold hands of death and that was the end of her existence on planet Earth. This experience was not only painful but has created very big vacuum yet to feel"
"I humbly and with respect use this medium to invite friends colleagues, political associates, business partners and other well wishers to join me give the last respect and honour to a woman who was not just an in-law but a real mother," High Chief Godwin Adokeme said.
"Our solace rest solely upon God alone at a moment like this especially with the prevailing challenges one is faced with at the moment," he added.