Ikoyi Building Collapse: Lagos Deputy Gov Visits Scene, Gives Update On Building Approval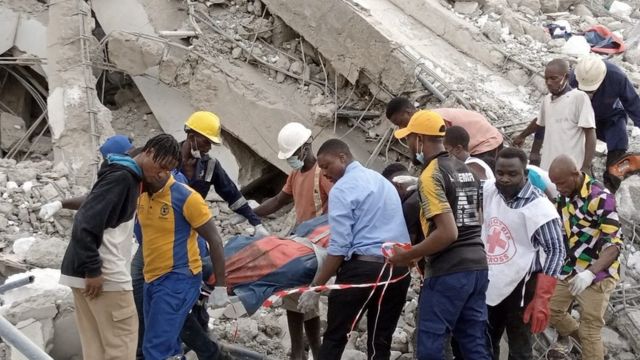 The Lagos deputy governor, Femi Hazmat, has visited the scene of the building that collapsed in Ikoyi, Lagos.
While reacting to the disturbing incident that has claimed yet to be confirmed number of lives, Hamzat noted that the government had actually approved 21 floors at the site and not 15 as claimed in some reports.
He, however, lamented that the construction compromised integrity. The deputy governor disclosed that so far, 10 casualties have been confirmed, while nine persons have been rescued from the rubbles.
Tracknews Online reports that Hamzat made the revelation while addressing journalists at the scene of the incident.
"It's a search and rescue operation," he said.
Speaking further on the rescue mission, Hamzat noted that two people were rescued alive on Tuesday morning while some confirmed dead.
He added: "The total number of people rescued so far is nine (currently undergoing treatment at a nearby clinic) while we have a record of 10 casualties.
"Our focus is to see how we can rescue more people in the building. We heard a voice of a lady trapped in the building. So, we're not sure of the number of persons trapped.
"It's a search and rescue operation and we hope to save more lives," he said.
Defending the government on the measures put in place to avoid another such occurrence, Hamzat said structural measures are in place to inspect the buildings within and around the state regularly.
"The approval for the building, this particular one that collapsed, was approved for 21 floors, not 15," the deputy governor reiterated.