N2.1bn fraud: Court summons ex-NHIS boss, Femi Thomas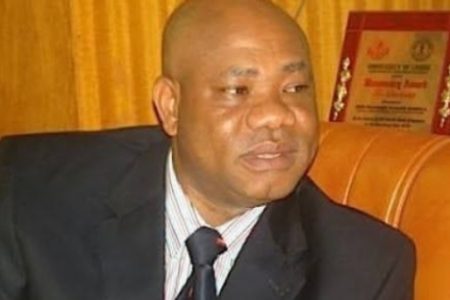 Justice Ayokunle Faji of a Federal High Court in Lagos has summoned a former Executive Secretary of the National Health Insurance Scheme (NHIS), Dr. Olufemi Martins Thomas, to appear in court for the continuation of his trial over alleged N2.1 billion fraud. The summoning order was sequel to Thomas' continued absence from court since March 30, 2020 when his no-case motion was dismissed.
Addressing the court over the defendant's non-challant attitude to his trial, prosecution's lawyer, Ekele Iheanacho, blamed him for the several delays in proceedings, saying he was always coming up with one excuse or the other.
The lawyer lamented that he had to travel from Abuja to Lagos to attend to the case on each hearing date. He threatened to make a formal application for revocation of the defendant's bail and issuance of bench warrants for his arrest if the trend continues.
Responding, Thomas' lawyer, Kunle Gbolahan, while apologizing for his client's absence claimed the notice of hearing was not served on him.
After listening to submissions of parties, Justice Faji warned the defendant not to take the court for granted. He said the court would issue a summons to be served on the defendant for the next hearing date adding that failure to attend court would leave him with no other option than to revoke his bail.
The judge consequently directed the prosecutor to serve the defendant with the summons and adjourned further hearing in the matter to December 3, 2021. Thomas is standing trial alongside a Bureau De Change operator, Kabiru Sidi, on an amended seven-count charge bordering on money laundering brought against them by the Economic and Financial Crimes Commission (EFCC).
The EFCC in the charge marked FHC/ L/457C/2015, alleged that the first accused, Dr. Thomas, and his wife, Mrs. Femi Thomas, still at large, had on or about July 3, 2015, at House 20, Lagos University Teaching Hospital(LUTH) Compound, Idi-Araba, conspired among themselves to make and accept the sun of $2.2 million, which sum exceeded N5 million, as stipulated by the law.
The former NHIS Executive Secretary, who was a two-term Commissioner of Health in Ekiti State, alongside his wife, was also alleged to have made a cash payment of the $2.2 million, to one, Mr. Ibitoye John Bamidele, without going through any financial institutions.
The Bureau De Change operator, Kabiru Sidi, was alleged to have on July 15, 2015, at the Ikoyi's office of EFCC, made a false statement to one, Afeez Mustapha, an investigating Officer with the Commission, that he was the owner of the said $2.2 million.
The offences were said to have contravened Sections 18 (2)(b), 1(a) and 39(2)(b) and punishable under sections 16(2)(b) and Section 39 (2)(c) of the Economic and Financial Crimes Commission (Establishment) Act 2004.