Nnamdi Kanu's Defence Team Walked Out On Justice Binta Nyako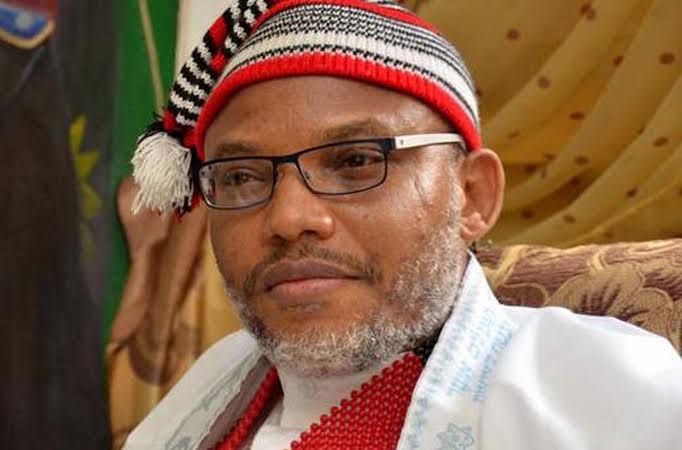 Contrary to the report from Bar Ejiofor, the led counsel and some section of the media, that Nnamdi Kanu's defence teams were locked out of the Federal High Court room during the proceedings.
The proceedings resumed after the Justice Binta Nyako entered the courtroom, Mohammed Abubakar, announced an appearance for the prosecution.
However, the defence team, led by Bar. Ejiofor was nowhere to be found, prompting Justice Binta Nyako to ask Nnamdi Kanu of his Defence team whereabouts.
In his response, Nnamdi Kanu said his lawyers were protesting the denial of access to Mr Fein, the IPOB lawyer from the United States, who was on the Federal High Court premises to observe the day's session.
But the Judge, who was visibly unhappy about the walk-out, said she will not dismiss the applications against the wish of the Prosecutor, Mohammed Abubakar, who asked the court to dismiss Nnamdi Kanu's pending applications
A diplomat from the British High Commission, who was in the courtroom to watch proceedings, said she had written the Chief Judge of the Federal High Court, seeking his consent to attend Wednesday's sitting, a procedure Justice Binta Nyako said was wrong.
Justice Binta Nyako noted that individuals seeking to attend Nnamdi Kanu's trial must write her court for consideration.
"If you need to observe proceedings in my court, you must apply to me. But for the high respect I have for my Chief Judge, I will allow you for today," the judge told the British diplomat.
Thereafter, the Judge adjourned the suit till January 19 and 20, 2022 for trial.
It was gathered that few Journalists and lawyers were allowed into the courtroom in observance of the COVID 19 Protocol and the capacity of the court room.
Nnamdi Kanu is being tried on charges of treasonable felony regarding his separatist activities. The trial was scheduled to resume before Justice Binta Nyako, for arguments on an application challenging the court's jurisdiction to hear the case.
The separatist, who was granted bail in April 2017, fled the country after the invasion of his home in Afara-Ukwu, near Umuahia, Abia State, by the military in September that year, a situation one of Nnamdi Kanu's lawyers, Alloy Ejimakor, described as the "rule of self-preservation."
Justice Binta Nyako subsequently revoked his bail for ditching his trial, and ordered his trial to be separated from the rest of the co-defendants'.
While the trial of the rest of the defendants has made some progress, Nnamdi Kanu's has been stalled since 2017.
On June 29, 2021, the Attorney-General of the Federation, Abubakar Malami, announced that Nnamdi Kanu had been rearrested and brought back to Nigeria to continue facing his trial.