APC Has Done Better For Nigeria In 6 Years Than PDP's 16 Years – Ahmad Lawan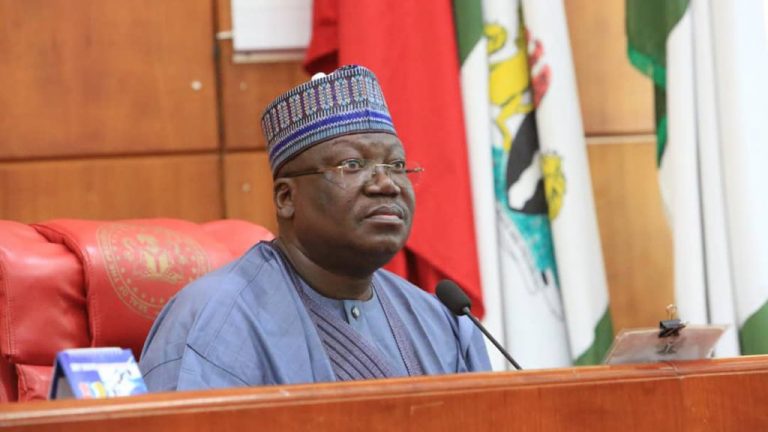 .Senate President Ahmad Lawan on Sunday submitted that Nigeria and Nigerians have fared better in the last six years under the All Progressives Congress (APC) than the sixteen years when the Peoples Democratic Party (PDP) was in power.
The Senate President said during the reign the PDP at the federal level, the country had huge resources but most of it ended up in private pockets.
Lawan said there is no concrete achievement that can be pointed to during the 16 years of PDP rule, warning that Nigerians should not vote for the umbrella party in 2023.
He stated this at the empowerment programme held at the APC square in Gombe State where Governor Inuwa Yahaya also announced his plan to recruit 3,700 youth personal assistants across the 11 local government areas of the state.
In his words, "PDP ruled the country for 16 years, deceiving Nigerians.
"The monies they got during their reign was mind-blowing but they did nothing to better the lives of Nigerians.
"As a matter of fact, the bulk of these monies ended up in private pockets.
"The performance the APC administration in the last six years far outweighs what the PDP claimed to have done in the last 16 years."
Meanwhile, the Director-General of Voice of Nigeria (VON), Osita Okechukwu, has advised the national leader of the All Progressives Congress, APC, Bola Ahmed Tinubu to drop his presidential ambition.
Speaking to newsmen in Abuja on Saturday, the APC chieftain urged the former Lagos governor to instead back someone from the southeast to succeed President Muhammadu Buhari.
While urging Tinubu to remain a kingmaker, Okechukwu urged the 'Jagaban' to back a younger aspirant from the South in line with the country's zoning convention.