How arrested Bayelsa 12 women pay #600,000 to secure their release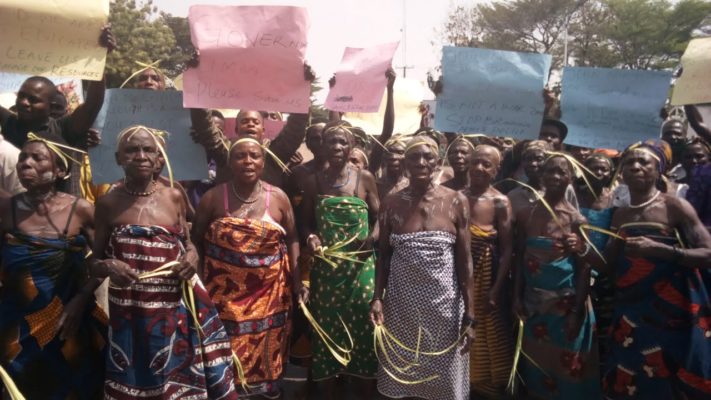 YENAGOA _____We are all familiar with the brutal execution of the "Ogoni 9" led by Ken Saro Wiwa and his 8 other compatriots who defended the interest of the Ogoni land years back during the military regime of Late Sanni Abacha and the awful persecution they faced.
Today, a similar situation has occurred. The gloomy history is likely to repeat itself when 12 elderly women have been arrested and charged to court for two count charges by the Bayelsa State Command of the Nigeria Police Force, the charges are;
1. Unlawful gathering, thereby commiting a felony and
2. Disturbing the peace of the ongoing construction of Yenagoa-Oporoma road without reasonable occasion.
Recall that these women have been asking the state government to include a link road to their Community, Aguobiri to ease access to the state capital for ease of access to healthcare, business and development but nothing has been done about it for the past few months.
On that fateful day, the women came out in their numbers again to send same message to the government by means of protest only for the police to arrest twelve(12) of them and throw them behind bars.
The sum of N600,000(six hundred thousand naira) was spent to secure their release to attend the court trial from their homes. Their arrest is even without warrant.
These 12 women are mothers and all peasant farmers who need to focus on their farms are arrested and charged to court for asking for their right.
Let us note that " peaceful protest is a Fundamentals human right" in a democratic society. Pursuant to Section 39 and 40 of the Constitution of the Federal Republic of Nigeria 1999 (2011 as amended), these women are entitled to the rights to "assemble" and "protest" peacefully by virtue of the provision. These rights can only be "invalidated", as seen in Section 45 (1) of (B), if it is in the interest of "public safety and order".
Looking at this issue meticulously, we will see that the actions of these women are in no way "militant" as they are old women who protested peacefully.
Since their actions are not militant, felony as defined in Black Law's Dictionary could not be what they should be charged for and the collection of bail money is illegal under the Nigerian Police Act. Under the Section 70 of Criminal Code Act 1990 of Nigeria, unlawful assembly is a misdemeanor and not a felony and after all, their conducts are in no way an unlawful gathering it is just that the government are body of persons who will describe your actions as "ultra vires" whenever they arrest you.
Hence, the right of the people are abused and democracy of accountability to the people that holds the power to elect is threatened. Also note that under the soil of the said Community are pipelines conveying crude oil which attracts the 13% derivation to the state.
Impediment of human rights should be under a dictator and not under a government who calls itself a democratic one.
Let every well meaning person support the Aguobiri 12 in all ramifications.