Nigerians React As Army Releases Detained Female Soldier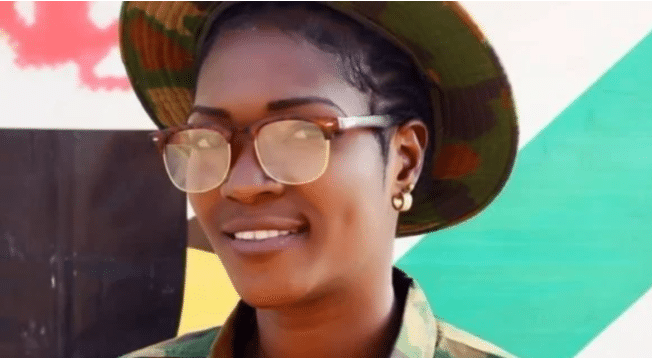 Nigerians have reacted to the release of the female soldier, Private Sofiat Akinlabi, who was detained after being proposed to by a male corps member.
www.tracknews.ng had reported that the soldier was detained for going against extant military laws which bans the public display of a romantic relationship with a corps member at the National Youth Service Corps orientation camp in Kwara State.
She was accused of violating the Nigerian Army's rules and regulations on the conduct of military personnel when deployed for duty.
Following her arrest, civil society organisations and individuals had called for her release, with over 1,000 persons signing a petition asking the Nigerian Army to release her from detention.
In a statement on Saturday by the spokesperson of the Nigerian Army, Brigadier General Onyema Nwachukwu, said the Chief of Army Staff, Lt.-Gen. Farouk Yahaya, has ordered Sofiat's immediate release.
He stated that the army chief ordered her release from detention in the spirit of Christmas with a serious warning for her not to repeat such an act again.
Reacting on social media, many youths hailed the army chief for ordering her release while others condemned the female soldiers for violating the rules and regulations of the Army.
Below are some of the reactions:
@Johnway21324322 said: "She is wrong She is wrong, please! The Army have its terms and condition of service, ethics and tradition. If she wants to remain in the Army, she must abide by their rules and regulations. Thank God she has been released but this will serve as an eye-opener to the rest."
@maxkells wrote: "Wetin this fine girl dey do for Nigerian Army!!! I wish her all the best jare. Naija go force man/woman do wetin them no wan do."
@StamgoW wrote: "Mumu Nigeria Army. Instead of them focusing on the major tasks keeping the country safe and fighting Boko haram, they are going for minor irrelevant issues like a proposal to a female soldier."
@ProfMordi said: "Glad the Nigerian military has been reasonable here. Love is where you find it. We have a generation of emotionally traumatised Nigerians perpetuated by old men who claim 'we don't do emotions'. These unprogressive acts need to be challenged, stopped as anti-Nigerian culture."
@QueenEs00822178 wrote: "Thank God o! I hope they didn't drill her Sha. He who finds a beautiful wife, finds a good thing, congratulations to them and may God bless their new home Folded hands Oh Lord when? Merry Christmas and a prosperous new year ahead."