Photos: Repentant Tony Kabaka Gets Christmas Gifts From Obaseki Gov't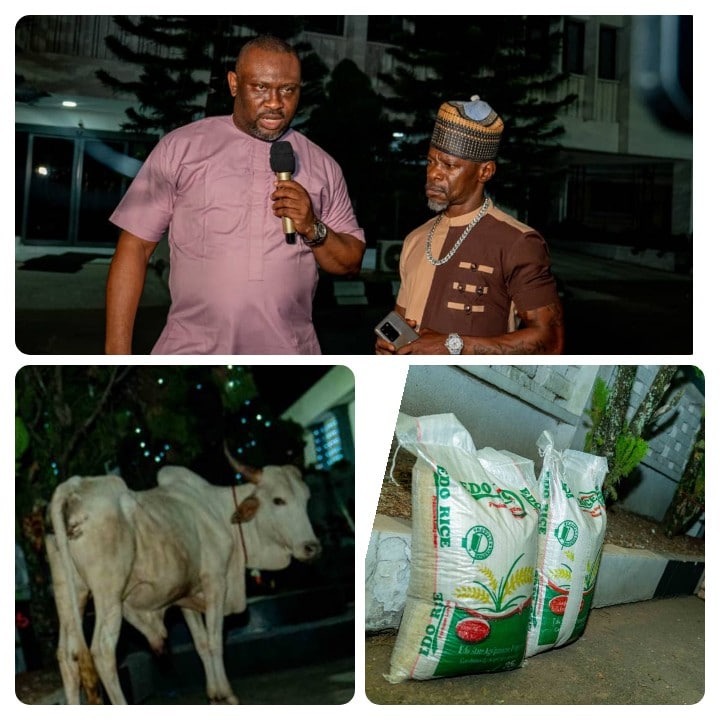 Governor Godwin Obaseki-led government of Edo State has given Christmas presents to Edo political enforcer, Tony Adun popularly known as Tony Kabaka.
www.tracknews.ng understands that Tony Kabaka had just surrendered his life to Jesus Christ a week ago at the Rock of Ages Church Assembly International, Benin.
The rooted politician was received into the Christian fold by Pastor Charles Osazuwa, the founder and head pastor of RACA.
Tony Kabaka had during the surrendering, presented himself and some of his alleged members at the altar of the Church.
While pledging his allegiance to God after all he has been through, Kabaka in a viral video also shared by Naija News, recalled how his property was wrecked by Governor Obaseki government.
www.tracknews.ng reports that Governor Obaseki government had demolished the hotel belonging to Tony Kabaka.
The T. Latifa hotel which is located in the Ugbor area of Benin City was demolished some times in February 2020.
The state government while speaking on its decision alleged that the property violated the building laws of the state and that it sits across a road in the Ugbor-Amagba axis of Oredo Local Government Area.
The special adviser to the Edo State Governor on media, Crusoe Osagie, further stated that the deed of a transfer being paraded by Adun was also not registered with the state government.
Kabaka, however, in his confession while repenting of his previous life, prayed to God to help touch the heart of Governor Godwin Obaseki.
He said "I have come to plead with God Almighty to touch the heart of the governor, to have mercy on me. I came here today to move closer to God because I don't expect the victory God gave to me.
"There is a need to move closer to God–if it is money, I don't have it, it is power, I don't have it, So today, I accept God as my personal Lord and saviour".
Receiving the politician with great joy, the presiding pastor said, "I know this decision is the beginning of a new chapter in your life. I am happy to see you surrender your life to Jesus".
Subsequently, Tony Kabaka who is a former aide of the National Chairman of the All Progressives Congress, Comrade Adams Oshiomhole, received Christmas relief from the Obaseki government, Naija News reports.
See photos below: