Rivers LGA Chairmen gets award for good performance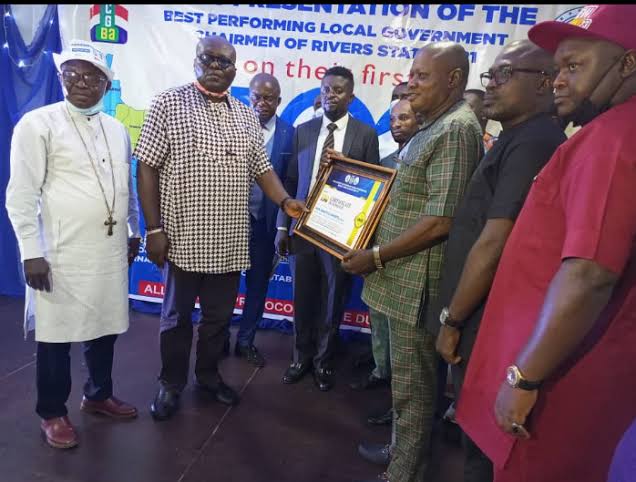 The Andoni Local Government Area Chairman in Rivers State, Barr Erastus Awortu and seven others which includes, Eleme, Opobo/Nkoro, Ogu/bolo, Gokana, Asari-Toru Degema, and Ikwerre Local Government councils have been awarded best performing LGAs chairmen in the State.
The award presented by the Civil Society Coalition on Good Governance, Budget and Accountability (CSCGBA), was a recognition confired on the eight best performing local government council Chairmen in their first 100 days in office.
Receiving the award, Barr Awortu said he would continue to leavrage on the policies of the state government to attract development to the grassroots.
Awortu who was represented by the Council's Secretary Mr Franklin Dimiary, explained that so much has been achieved considering the high level insecurity and Social deprivation his administration inherited.
"Upon my assumption in office, Peace, security, economic growth, human capacity development rural infrastructure and others have continued to enjoy positive turnaround.
"We will continue to ensure that the policy thrust of the state government is upheld at the third teir," he said.
Meanwhile, the Executive Director of CSCGBA, Emmanuel Nkweke, has charged local council Chairmen on social responsibility.
He noted that local government administration was closest to the people, hence the need for monitoring to ensure effective policy implementation.
The director explained that a major yardstick was identifying those local council Chairmen striving to replicate the state government policies at the grassroots.
The director however, enjouned council administrators to remain open to constructive criticisms.
"Constructive criticisms should be greatly appreciated by politicians even as they strive towards policy attainment in the country.
"Today, we are here, to congratulate eight local government councils- Andoni, Eleme, Opobo/Nkoro, Ogu/bolo, Gokana, Asaritoro, Degema, and Ikwerre local area councils.
"We believe that this recognition would spur them to do more as they proceed to delivering on their electioneering promises.
Also speaking, Desmond Akawo, State Chairman of the People's Democratic Party (PDP) lauded the group for painstakingly monitoring performances of elected council Chairmen in the state.
Represented by Mr Benibo George, State Secretary of the party, Akawo said that the positive records were a testimonial to their credibility as worthy ambassadors of the party