"Shut down If You Don't Know What To Post Again" – NYF Tells Sahara Reporters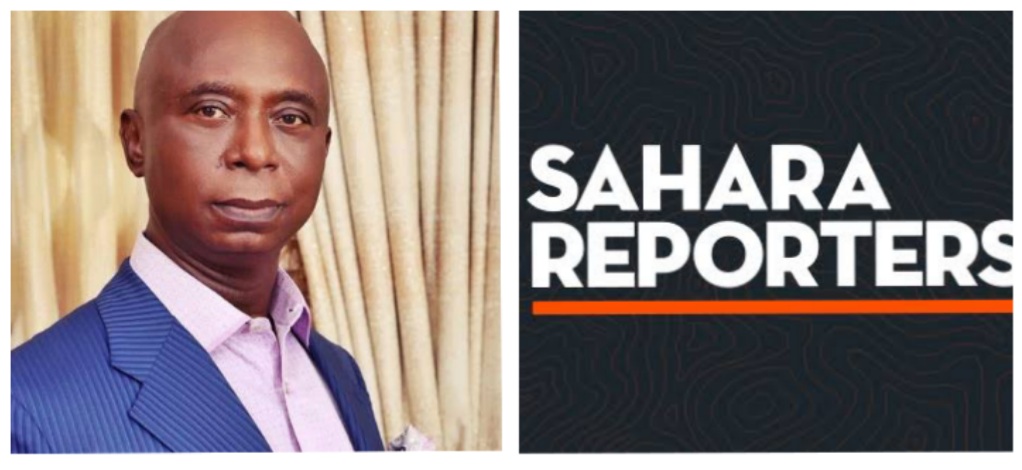 The National Chairman of Nigeria Youth Forum, Comrade Frank Joshua has taken to the media to blast SaharaReporters for making a malicious attack on one generous, philanthropic and the initiator of Malaria eradication programme, Ned Nwoko which he has been spending his personal funds under the foundation.
Recall that SaharaReporters had earlier this week published a report on Hon. Ned Nwoko that he defrauded African leaders and other influential personalities in diaspora by claiming ownership and sale of ample properties, the group cried out against this fake report.
In a media conference organized by the forum in Yenagoa the Bayelsa State capital over the weekend, Joshua recounted how he read the report with disgust and he started immediate investigations to find out the truth of the whole issue.
He claimed to have talked with many a person who are bosom associates of this man of high repute and also checked his past records in his hometown and constituency and the country at large. He said the results of the whole thing is what is great and huge than what he expected.
"Sahara Reporters is a wide media that we all respected but I must state that we are disappointed that it wrote a spurious and stupid report against our dear brother and master who has been giving back in multitude to our youths, especially scholarship, entertainment and lots more," Joshua stated.
While blasting the Sahara Reporters, Comrade Joshua advised that they should shut down if they don't know what to post again. He claimed that it is good to remain mute than posting fake updates.
"Having conversed with ample persons who are more close to this man in question, Hon. Nwoko, I found out that the publication made by Sahara Reporters earlier is nothing but a fake account and I believe that it has underlying political motive. They just wanted to use it to tarnish the good image of this indefatigable man," he confirmed.
www.tracknews.ng confirms that since Nwoko has been in government, nothing of such ever happened to him and not even now as he is an easy-going man who only cares for the less privileged children and doing his best in contributing to the development of the society.
"I will not read this Sahara Reporters again if they continue with this nonsense they're saying about any high-placed person here and there. It is unfair! They should do their background research very well," Peter Uche of Delta Branch of the forum commented.
"This my speech here should be a fact-check. I urge the media agents here on this august occasion to please tell and announce it to even the ears of the deaf that Honourable Ned Nwoko is not a 'scammer' or fraudster as claimed by Sahara Reporters. We don't know who is behind this but we believe that God will fish them out," Deji Ayoade who is the Zonal Director of the forum in Kwara State called on the security agencies to investigate the SaharaReporters to tell us who and who Hon. Ned Nwoko has defrauded.
As a organised body we are giving the SaharaReporters a week to retrieve their statement and make a public apology through their platform and at least three National dailies preferably, Vanguard, Sun and The Nation. After the expiration of this one week grace we will surely challenge Sahara Reporters in court to tell the world how Hon. Nwoko is defrauding people as they claimed Frank added.