Soyinka To Buhari: Disclose Findings On Bola Ige's Death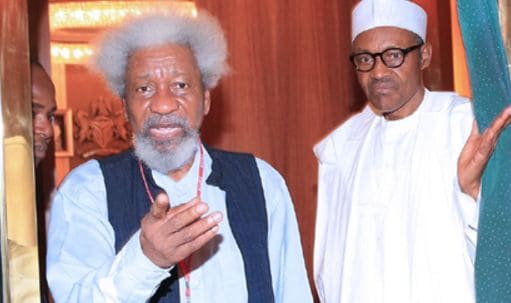 Nobel laureate Wole Soyinka has asked President Muhammadu Buhari to reveal the outcome of the investigation on the death of the former Attorney General of the Federation and Minister of Justice, Bola Ige.
Soyinka made this known at an event organised by the Bola Ige Justice Centre in commemoration of the late minister's 20th death anniversary.
www.tracknews.ng reports that Ige was assassinated by some unknown gunmen at his residence in Ibadan on December 23, 2001.
Soyinka reminded President Buhari of his promise of opening an enquiry into the spate of political assassination witnessed in the country in recent years.
He stated that Nigerians will not relent in demanding an explanation for Ige's murder, expose the killers and identify the conspirators involved in the assassination.
In a letter addressed to Mrs Funso Adegbola, daughter of late Ige, Soyinka said: "An eleventh-hour, sadly insurmountable impediment, alas, prevents my joining you on this bitter-sweet occasion. Bitter for obvious reasons, but also a source of joy, since it provides yet another opportunity for celebrating the passage of a remarkable individual – your late father — through the lives of the rest of us yet living. Let us be unstinting in our sustaining reminiscences.
"I particularly regret my absence, as it provides a mandatory, inescapable occasion for directing a question at the nation's current leader, President Buhari, a DEMAND that the entire nation, no matter the political inclination of her citizens, is morally obliged to make."