SS1 Student Arrested For Lacing Guardian's Food With Rat Poison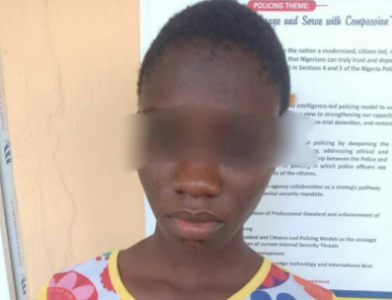 The Ogun State Police Command has apprehended an 18-year-old senior secondary school student for lacing her guardian's food with rat poison.
The suspect identified as Tope Fasanya was arrested after her guardian Mrs. Esther Bada informed the police that she felt a sharp pain in her stomach when she ate a meal served by her ward.
She called Tope and asked her to eat out of the meal but she refused and that was when Bada became suspicious. She was later rushed to Owode Egba general hospital when the pain became severe.
Tope was subsequently arrested by the police and upon thorough investigation revealed that she added rat poison to the victim's food.
The spokesperson of the state police command, DSP Abimbola Oyeyemi confirmed the incident and also revealed that the suspect has been living with the victim since she was in primary 3.
Bala at that time was Tope's class teacher. After the suspect lost her dad she volunteered to raise and sponsor her education.
''It was the victim that sponsored the suspect's education up till her present class. When asked why she decided to kill her benefactor, the suspect who described the victim as a very caring person said that she only wanted to return to her mother and she can only do that if her guardian is no more,'' Oyeyemi said
The commissioner of police CP Lanre Bankole has ordered that the suspect be arraigned in court as soon as the investigation is concluded.